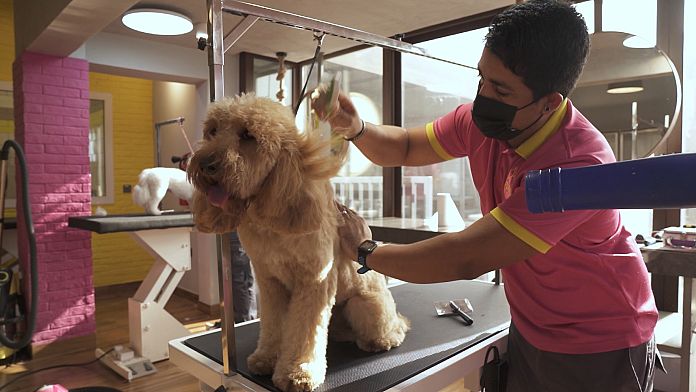 In Dubai, pets may be entitled to luxury treatment. There is a whole series of "pet-friendly" hotels and restaurants, dedicated nurseries and grooming salons for dogs where they are particularly pampered. We go to one of them where in addition to subjecting them to a shampoo, styling, haircut or pedicure, our four-legged friends become stars for a day during a photo shoot before / after.
Celebrity grooming
The establishment, located in the residential district of Jumeirah, also offers a day care for dogs. "We have many clients who are very busy with their work and drop their dog off in the morning to spend the day at daycare, it's a bit like coming to school," laughs the managing partner of Shampooch, Shaheen Shahani. "Dogs run around, make friends and go home tired and happy and that's great for owners too," she assures.
Canine suites
Another canine welcome opened in Dubai Investment Park in 2015. It offers five-star grooming, boarding, training and recreation services and even has a swimming pool.
"We also have a transport and limo service for animals," says Sean Parker, director of My Second Home before adding: "Each canine suite, whether standard or presidential, is equipped with a webcam so that very worried owners can monitor their dog while he sleeps at night."
Menu for dogs
Dubai offers several "pet-friendly" hotels where you can stay with your dog. But only one is an architectural work designed, inside and out, by the late Zaha Hadid. This is the ME Dubai which offers a package with basket and accessories for dogs, as well as an in-room menu designed by the establishment's executive chef, James Knight-Pacheco. "As a chef, I usually cook for humans, so there I had to do a lot of research to find out what's in pet food," he acknowledges.
"On our menu there is a whole range of different dishes: those for puppies, those for dogs and those for cats, but they are always based on protein and a little carbohydrate," he explains.
The same attention to dogs is given in other restaurants in Dubai where there are tailor-made snacks and suitable walking areas for them.