This season, PSG has two world-class goalkeepers in Gianluigi Donnarumma and Keylor Navas. While the post of goalkeeper is a lot of talk in the capital, Mauricio Pochettino knows how to deal with the problem.
Pochettino made his decision between Donnarumma and Navas
During a press conference on Tuesday afternoon, on the eve of the draw (1-1) of the 1st matchday of the group stage of the Champions League against FC Brugge, the coach of the Paris Saint-Germain was asked about competition at the post of goalkeeper. Mauricio Pochettino did not decide between Keylor Navas, the usual holder, and Gianluigi Donnarumma, arrived for free this summer from AC Milan, the Argentine coach explaining in particular that he will decide match after match.
"Competition Navas-Donnarumma ? I'll decide game after game. The reality is that having two great goalkeepers raises the competition and therefore raises the level. This is only beneficial for us. All the players who arrive know the level of requirement that there is. Every time, it will be my decisions, they will be made in every game ", said the successor of Thomas Tuchel. A position fully shared by the legend Gianluigi Buffon.
PSG transfer window: Buffon drops his advice to Pochettino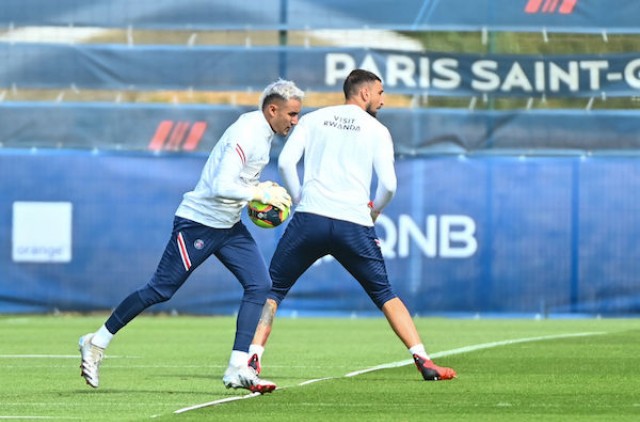 In an interview with BeIN Sports, Gianluigi Buffon delivered his point of view on tough competition at the goalkeeper position between Keylor Navas and Gianluigi Donnarumma at Paris Saint-Germain. And the least we can say is that the ephemeral goalkeeper of Paris SG shares the position of Mauricio Pochettino. Indeed, the current last rampart of Parma Calcio believes that there is no need to establish a precise hierarchy between the 22-year-old Italian international and the experienced Costa Rican of 34 years.
"If a team like PSG has two very strong goalkeepers like this, why say that one is a starter and the other number 2 ? Because honestly, it wouldn't be fair. You have to see the performances in the match to decide who will play. When you have two very high-quality goalkeepers, it's a shame to choose one or the other. And besides, why choose one ? It is necessary that both have the opportunity to play, " explained the former number of Juventus Turin and Squadra Azzurra.