News
[Direct Ukraine] Kyiv rejects Russian ultimatum to surrender in Mariupol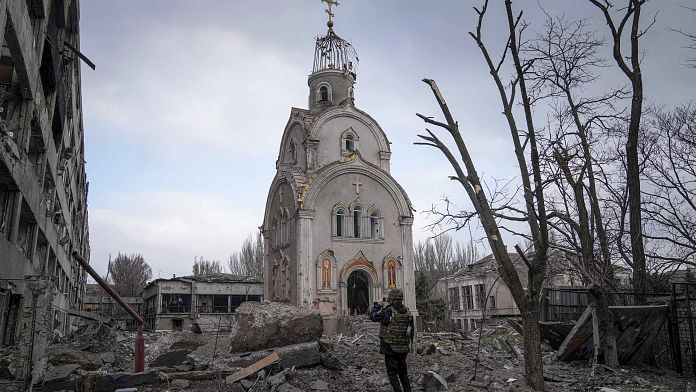 Update at 7 a.m.
Mariupol: Kyiv rejects ultimatum to surrender
Ukraine will not "lay down its arms and will not leave the besieged city" of Mariupol, its deputy prime minister told Ukrainian media, in reaction to the ultimatum posed by Russia.
The Russian Ministry of Defense had called on Ukraine to "lay down its arms" and demanded a "written response" to its ultimatum before Monday 05:00, in the name of safeguarding the inhabitants and the infrastructure of the city of Mariupol.
"There is no talk of surrender or laying down arms. We have already informed the Russian side about this," Ukrainian Deputy Prime Minister Iryna Vereshchuk told the Ukrayinskaya Pravda newspaper. "It's deliberate manipulation and real hostage-taking," she added of the request.
The Battle of Mariupol continues, with fighting inside the city since Friday.
"Jerusalem would be the right place to find peace"
Ukrainian President Volodymyr Zelensky asked Israel to "make a choice" by concretely supporting Ukraine against Russia, during a videoconference speech before the deputies of the Knesset, the Israeli Parliament.
Volodymyr Zelensky then estimated, overnight from Sunday to Monday, that Jerusalem would be "the right place to find peace" by evoking the negotiations with Russia which he calls for.
At least six dead in night bombing in Kyiv
A bombardment in Kyiv killed at least six people overnight from Sunday to Monday, noted an AFP journalist, as Russian forces are still seeking to encircle the Ukrainian capital.
The site was hit by a very powerful strike which pulverized vehicles parked in the parking lot and left a gaping crater several meters wide.
Russian hypersonic missiles
Russia claimed on Sunday, for the second day in a row, that it used hypersonic missiles in Ukraine, this time to destroy a Ukrainian army fuel reserve in the south.
In Kyiv, at least one person was killed in a strike by the Russian army on a shopping center on Sunday evening, announced the mayor of the Ukrainian capital.
Beijing denies helping Moscow militarily
Beijing does not send military assistance to Moscow for its offensive in Ukraine, said the Chinese ambassador to the United States, without specifying whether this position also applies to the future.
Ten million displaced
Ten million people, more than a quarter of Ukraine's population, have now fled their homes due to Russia's war, said UN High Commissioner for Refugees Filippo Grandi.