News
[Direct] Russian 'missiles' hit Lviv airport area, city mayor says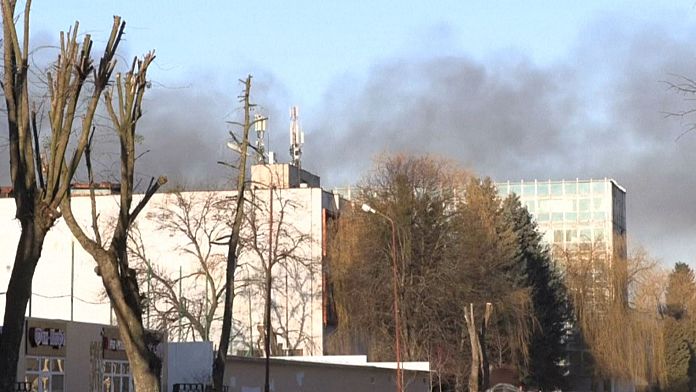 Update at 7 a.m.
Washington accuses Russia of 'war crimes'
The head of the American diplomacy Antony Blinken estimated Thursday that the Russian attacks against civilians in Ukraine constituted "war crimes".
G7 foreign ministers have warned that perpetrators of war crimes in Ukraine should be "accountable", stressing that "evidence gathering" is ongoing.
Mr. Blinken also judged that Moscow was not making "significant effort" in its talks with kyiv.
Biden-Xi interview scheduled for Friday
US and Chinese Presidents Joe Biden and Xi Jinping will discuss Moscow's war in Ukraine at 1:00 p.m. GMT on Friday – their fourth meeting since Joe Biden entered the White House.
"President Biden (…) will make it clear to him that China will bear responsibility for any act aimed at supporting Russian aggression and that we will not hesitate to impose costs on him," said the secretary of state. American Antony Blinken.
"We see with concern that China is considering giving Russia direct military assistance," he added.
For lack of allies, Moscow renounces the vote on a resolution at the United Nations
Russia has given up holding a vote in the UN Security Council on Friday on a resolution related to the war in Ukraine, for lack of support from its closest allies, diplomats told AFP on Thursday.
"They asked for co-sponsorship" for their text, which they said focused on humanitarian issues, "and there was no return," said an ambassador on condition of anonymity, suggesting that neither China nor India supported the controversial Russian initiative and would have voted in favor of it.
A "thousand" of Chechen volunteers on their way to Ukraine
The leader of the Russian republic of Chechnya Ramzan Kadyrov, a loyal supporter of Vladimir Putin, assured Thursday that a "thousand" Chechen volunteers were on their way to fight in Ukraine.
This information could not be independently verified and has been questioned by Ukrainian officials. The forces under Mr. Kadyrov's control are accused of numerous abuses in Chechnya.
Moscow rejects ICJ decision
The Kremlin on Thursday rejected the decision of the International Court of Justice (ICJ), the highest court of the UN, which the day before ordered Russia to immediately suspend its military operations in Ukraine.
The Kremlin stressed that both sides had to agree for such a decision to be implemented and that was not the case.
The NGO Human Rights Watch has also asked Ukraine to stop staging Russian prisoners of war because it violates the Geneva Conventions.
More than three million refugees
More than 100,000 refugees have been added in 24 hours to the three million people who have already fled Ukraine since the invasion of the Russian army on February 24, according to the UN, which also lists around two million displaced people in inside the country.
The Council of Europe, for its part, warned Thursday against the risk for Ukrainian refugees of falling into human trafficking networks.
Mariupol: 30,000 people evacuated in one week
Authorities in the Ukrainian city of Mariupol, besieged by Russian forces, announced on Thursday the evacuation of 30,000 people in a week, adding that they did not yet know the toll of the bombing the day before of a theater where civilians were sheltering. .
Moscow has denied the bombardment, attributing it to the Ukrainian nationalist Azov battalion.
Some 350,000 people are still in the city and "continue to hide in shelters and cellars", said the town hall, according to which "50 to 100 bombs" are dropped by Russian planes on average every day.
Deadly strike near Kharkiv
Russian artillery fire killed at least 21 people on Thursday and injured 25 in the town of Merefa, near the besieged city of Kharkiv (east), the regional prosecutor's office said.
Russian anti-war journalist to quit her channel
Russian journalist Marina Ovsiannikova, who became an anti-war muse after appearing on a pro-Kremlin newscast to denounce the offensive in Ukraine, said Thursday that she would leave the Pervy Kanal channel on her own.
Debt: no Russian default at this stage
Hit by very heavy sanctions, Russia has so far managed to escape defaulting on its debt. JPMorgan bank said on Thursday that it had received payment of a $117.2 million interest tranche that was due.