News
Diplomatic efforts between Turkey and Armenia in Antalya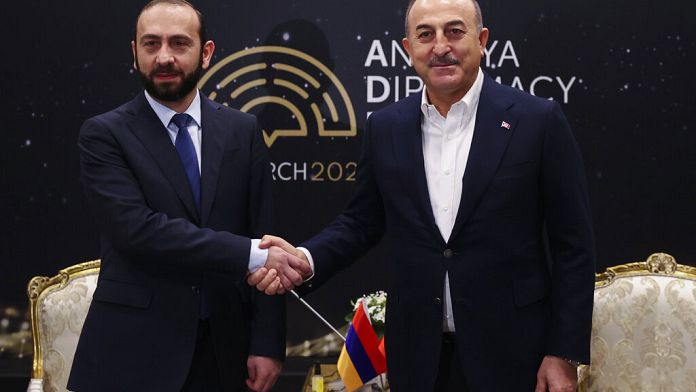 Turkish Foreign Minister Mevlüt Çavuşoğlu received his Armenian counterpart Ararat Mirzoyan on the sidelines of a diplomatic forum in Antalya. Objective of the two countries: to pursue standardization efforts which could lead to the reopening of their common border for trade.
"During our meeting, we agreed on the continuation of the normalization phase with the aim of establishing diplomatic relations without preconditions and the opening of borders"explained the Armenian Minister of Foreign Affairs, Ararat Mirzoyan.
"Azerbaijan is also satisfied the measures that are being taken and the normalization process between Turkey and Armenia, wanted to reassure Turkish Foreign Minister Mevlüt Çavuşoğlu. As you know, I was in Baku last Saturday. Azerbaijan supports this process."
In 2009, the two countries had already concluded an agreement aimed at establishing official relations and opening their common border, but this agreement had never been ratified due to the strong opposition of Azerbaijan, in conflict with Armenia. about the Nagorno-Karabakh.