[ad_1]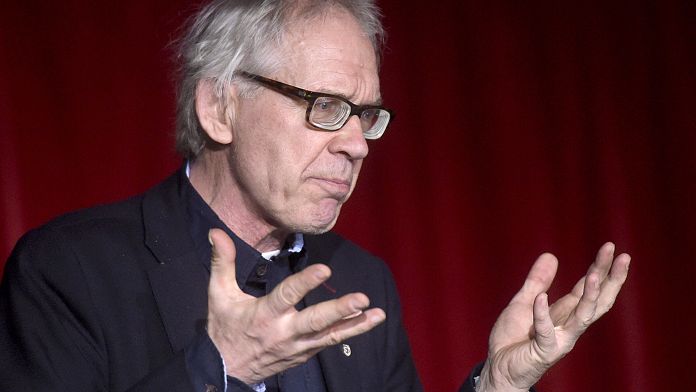 Swedish artist Lars Vilks died on Sunday in Sweden along with two of his bodyguards in what police consider a "tragic" road accident. He was an agitator threatened with assassination for a caricature of Muhammad that he defended by artistic freedom.
Unharmed in February 2015 in Copenhagen by an attack during a debate on Islamism and freedom of expression following the Charlie Hebdo massacre, the 75-year-old cartoonist, whose last 14 largely under police protection, appeared to be a real trompe-la-mort.
After surviving multiple threats and plans to attack, his life ended in the collision with a truck of the unmarked police car in which he was traveling with the two policemen charged with protecting him, Sunday afternoon on a highway in southern Sweden.
It was through a roundabout story that the life of this freethinker would turn upside down in 2007.
Two years after the cartoons of Muhammad published by the Danish daily Jyllands-Postenand the fury of the Muslim world against them, Lars Vilks signs drawings where he represents Muhammad in "roundabout dog".
This strange as well as provocative subject, intended for an exhibition on the theme of dogs, mixes the reference to the Danish newspaper and the vogue then consisting of placing decorative dogs in the middle of the roundabouts in Sweden.
Finally refused by the gallery for security reasons, the work was published in a local Swedish newspaper, then taken up in solidarity by several dailies in the kingdom.
In a smaller-scale re-release of the Danish case, Vilks triggered high-level reactions in several Muslim countries, gaining worldwide fame, but also calls for murder.
His assassination was thus planned by the American Colleen LaRose, alias "JihadJane", who allegedly recruited Islamists for this purpose according to the American justice system, before being arrested in October 2009.
In May 2010, two young Swedish brothers of Kosovar origin tried to set fire to his house with Molotov cocktails. He wasn't there.
In June 2010, he took a whim during a debate at the Swedish University of Uppsala that turned pugilistic.
In September 2011, hundreds of people were evacuated from a building in Göteborg where the Biennale of Contemporary Art was inaugurated: the police had strong reason to believe that Mr. Vilks was going to be attacked and arrested four people.
Known until now mainly for a fascinating construction of wood and stone facing the sea on the southern coast of Sweden, this controversial figure ensured philosophically take his new life under protection.
"I'm trying to keep my cool. The good thing is that the people who have after me are probably ill-equipped, they are amateurs", he told AFP eleven years ago.
– Search for limits –
"I am not a fanatical racist, I have no political position. I am an artist who seeks limits, who wants to find what can be done or not and where there can be a debate", pleaded the artist with thick glasses.
"I think it is very important, if we want to talk about freedom of expression and about Islam and Muslims, to have a real position, to have something provocative and transgressive enough to start a debate".
On the day of the Charlie Hebdo attack, Lars Vilks confided his sadness to the regional newspaper Helsingborgs Dagblad. "Freedom of expression cannot be given up. The attack in Paris is unfortunately significant from the time we live".
A month later, on 14 February, a young Danish man of Palestinian origin tried to break into a debate on freedom of expression held in Copenhagen in response to the killing of the French satirical newspaper.
Vilks, headlining the meeting with the French ambassador, escaped unharmed, but a 55-year-old Danish director was killed. The attacker then managed to kill a Jewish guard in front of the Copenhagen synagogue, before being shot dead during a face-to-face with Danish police.
[ad_2]

Source link