News
Deadly cocaine in Buenos Aires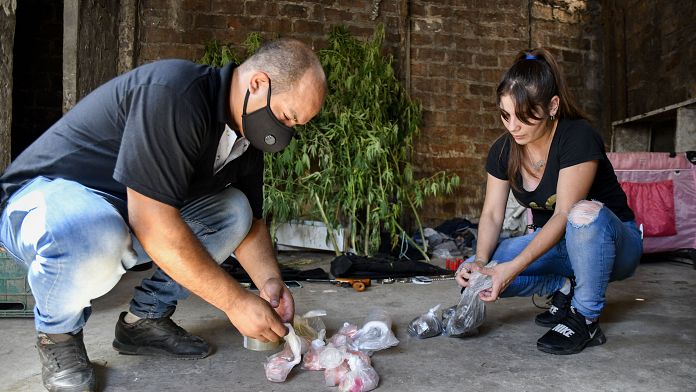 In a poor neighborhood in the outer suburbs of Buenos Aires, families reeling from the loss or hospitalization of a loved one oscillated between rage and hope that the death of people killed by adulterated cocaine would "serve" to give priority to help for drug addicts, not punishment.
"Let it be, let it be, let's do something…!" Beatriz Mercado returns from seeing his 31-year-old son at the San Bernardino de Siena hospital, a survivor of the massive poisoning that has killed at least 20 people since the night of Tuesday to Wednesday.
The hospital in Hurlingham, a suburb about 35 km from Buenos Aires, is one of eight that received victims of this killer cocaine overnight and then on Wednesday morning, cut with we do not yet know what or why: dosage error or will to kill.
Beatriz Mercado found her 31-year-old son lying in the kitchen, light on. "I thought he forgot to turn off, and I saw him on the floor. Bad very bad. He was barely breathing, his eyes rolled back. I understood that he had fallen face down because he had a scratch on his nose". She took him to the hospital, where he was in the evening on life support."I hope in God, nothing else. A miracle".
AT Loma Hermosaa poor district, with half-concrete, half-paved streets, half-finished hard constructions, halfway between the shantytown and the urban sprawl, AFP was able to visit the premises, known to the neighbours, where a large police operation seized envelopes of cocaine on Wednesday, similar to those identified by relatives of the victim.
"A lot of pain"
Ten people were arrested, but the investigation was not on Wednesday which worried the families, even if Beatriz had to go to the police station to file a complaint.
"What they (the drug addicts) do causes us great pain, makes us angry. But we must change the laws, because we focus on offenders in prison, but we forget their condition as drug addicts", she laments.
"Prison is useless, let's not make more prisons, let's make more rehabilitation centers with professionals, people who have love, with mothers (…) to change the future of our children", she begs in a weary voice.
The first medical feedback from the deceased or hospitalized suggested a violent, almost immediate effect, from the cut cocaine. With violent convulsions, sometimes sudden cardiac arrests.
"The doctor who attended to him was intrigued that other boys had died of bleeding, some in the lungs", recount Beatriz.
Maria Morales' brother-in-law, 41, is also "intubated, and in serious condition".
He was taking cocaine with friends on the night of Tuesday to Wednesday. "We just know that his friend, the one who died, decompensated first. Then it was his turn. He called for help, they brought him here at 5 in the morning".
"We just want him to pull through and be cured of his addiction.", hope mariaone of the few relatives of victims to want to speak to the media, precisely insisting that it is necessary to say, and to make it known.
"No one should be judged. You have to think that behind every drug addict, there is a family, a father, a mother, children who suffer".