[ad_1]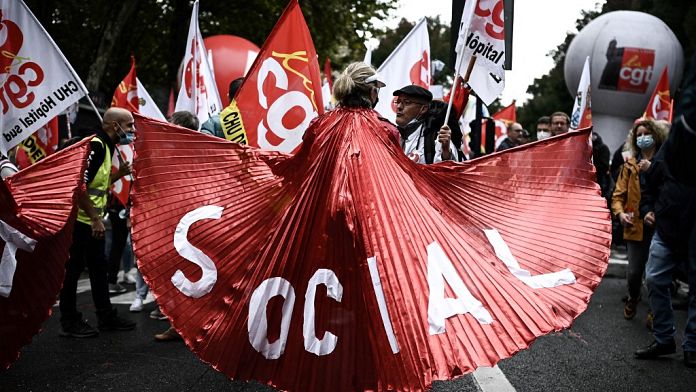 Employees and unemployed are called to strike and protest this Tuesday throughout France to demand "urgent answers", especially on the issue of wages, and put social issues at the heart of the debate, a little more than six months before the presidential election.
"We need urgent answers now (…) When there are people on the street, it weighs", said CGT Secretary general Philippe Martinez on LCI on Monday. "There is no question of waiting for the next President of the Republic to answer it", he insisted in an interview with Les Echos on Tuesday. "When I go to companies, I am told about salary, not immigration".
Some 200 gathering points are planned everywhere in France, according to Céline Verzeletti, confederal secretary of the CGT. "This is a first indication that is positive for us", she congratulated herself. A Marseille, a procession gathered several thousand people in the late morning, found an AFP journalist. A Grenoble, the protesters were 1.400 according to the police. In Paris, "several thousand people are expected", according to a police source.
The strike is, however, fairly little followed in transport, the SNCF having planned "normal" traffic for the TGV, and "almost normal" for the TER, except in Normandy where it will be "disrupted".
The trade unions behind the movement (CGT, FO, Solidaires, FSU, as well as the youth organizations Fidl, MNL, Unef and UNL) have, in a common text, argued "the urgency of revaluing the classification grids of professional branches, increasing the Smic, the index point of the civil service, pensions, social minima and scholarships".
Hiring problems in sectors such as catering and construction, as well as the recent rise in energy prices, have brought the issue of corporate wages to the forefront.
Everywhere in France, the ranks of protesters should be enlarged by opponents of the unemployment insurance reform, which comes into force on Friday, and which results in reducing the benefits of "permittents" unemployed, chaining short contracts and periods of unemployment. All trade unions are expected to file appeals against the reform this week, and in particular the first of them, the CFDT, which has not stopped denouncing it but will not join the protesters on Tuesday.
Another point of vigilance, the question of pensions, which continues to hover over the end of Emmanuel Macron's term and will be an essential subject of the presidential campaign.
[ad_2]

Source link