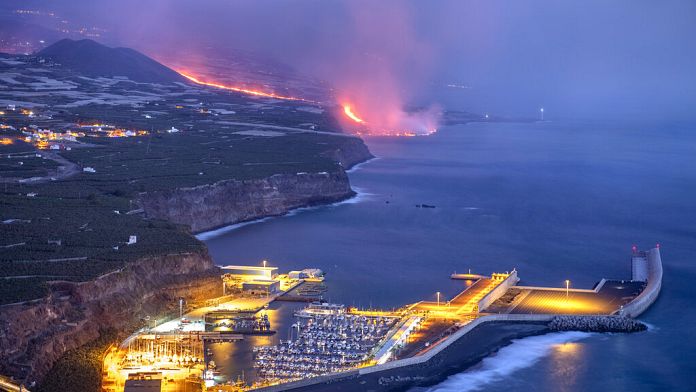 The destruction left by the wake of the bright red lava river on the Spanish island of La Palma is estimated at around 400 million euros" worth.
The volcanic eruption, which began on September 19, engulfed more than 650 homes and businesses and burned at least 270 hectares of farmland.
But since yesterday, a torrent of lava has been tumbling into the ocean from a hundred-meter cliff on the west coast of the island. A channel is open and this is good news since it prevents the spreading of lava to other areas and further destruction.
The greatest risk to the population, that of the fumes of toxic gases produced by the contact of the lava with the water, seems for the moment eliminated thanks to the wind. But it should not change direction.
In the meantime, the lava that flows down this corridor is gaining ground on the sea. Its accumulation in the water forms a kind of pyramid, reaching about fifty meters high, and this mound continues to grow.
According to experts, it is impossible to determine how long the eruption of the Cumbre Vieja volcano will last. But other good news, air links with the island were able to resume yesterday.
So far no deaths or serious injuries have been reported thanks to the rapid evacuation of more than 6,000 people after weeks of earth shaking.
The two previous eruptions at La Palma occurred in 1949 and 1971. A total of three people were killed, two of them by gas inhalation.