[ad_1]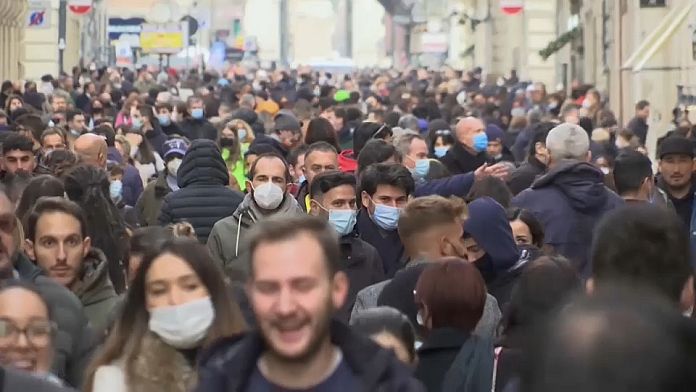 Unvaccinated people in Italy will no longer be able to go to the movies, the theater, concerts or major sporting events, under new restrictions that came into effect on Monday.
The peninsula, like its European neighbors, is facing a rebound in coronavirus contaminations and has adopted a new package of measures to try to stop it. The "super green pass" was therefore put in place on Monday. This cannot be issued with a screening test, as was the case before. Only people fully vaccinated or cured of Covid-19 will therefore be able to access bars, restaurants, cinemas, theaters, or nightclubs.
However, the basic pass is sufficient to eat on the terrace or have a coffee standing at the bar, or even go to work. Until now required only for taking the plane or long-distance trains, the basic health pass will now also be required for local transport (bus, metro and regional trains).
Checks began Monday morning at stations across the country and a record 1.3 million health passes were downloaded on Sunday for this turn of the screw. In Rome, a fifty-something without a pass was thus fined Monday morning of 400 euros for getting off the bus near Piazza del Popolo in the historic center, according to the daily Il Corriere della Sera. "I don't have it because I wanted to get vaccinated in the next few days", he justified himself.
This weekend, still in Rome, the compulsory wearing of the mask outside came into force in the most commercial arteries, particularly frequented in view of Christmas cats.
Italy, the first European country hard hit by the pandemic in early 2020, has so far recorded more than 134,000 deaths. Even if contagions are on the rise, it is doing better than its neighbors, with between 15,000 and 20,000 new daily cases recorded in recent days.
Almost 85% of those over 12 are fully immunized, the campaign for the 3rd dose is underway and vaccines will soon be available for children aged 5 to 11. The basic health pass, introduced in August, was required to go to the cinema, theater, museum, restaurants. By October, it had become mandatory in all workplaces.
[ad_2]

Source link