[ad_1]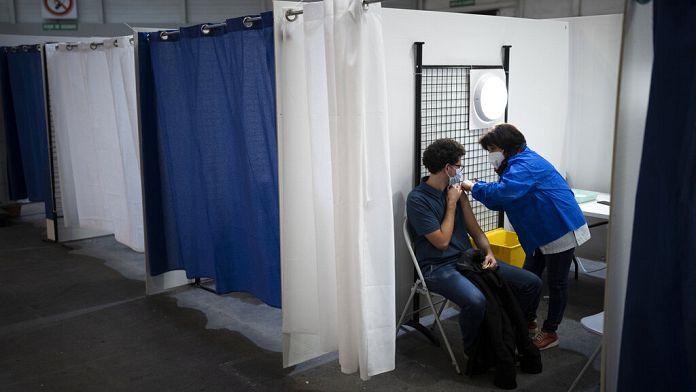 The 5th wave continues in France. The incidence rate recently exceeded the mark of 300 per 100,000 inhabitants – for the first time since mid-April – and 50,000 new cases were recorded on Wednesday according to Public Health France, a figure up 63% in one week .
Contaminations mainly due to the Delta variant, but it is another mutation of Covid-19 that particularly worries the authorities. A first case of the Omicron variant was confirmed this Thursday morning in mainland France, in a man residing in Île-de-France and returning from a trip to Nigeria. The man, not vaccinated against Covid, is between 50 and 60 years old and did not show symptoms at the time of the test, according to the Regional Health Agency (ARS). His wife, who accompanied him on this trip, also unvaccinated, "has tested positive for Covid-19 and sequencing is underway to verify if it is also the Omicron variant", specified the ARS. The entourage was tested and placed in solitary confinement.
In his speech at the end of the Council of Ministers, the government spokesperson, Gabriel Attal, told him "13 suspected cases of the Omicron variant"in France and expected proven cases"in the next few hours or days".
Compulsory vaccination, "not the choice of France"
In response, the government decided to tighten some of the entry restrictions for travelers from Saturday, as the spokesperson said: "Regarding travel from European Union countries, we have decided, for unvaccinated people, to increase the time limit for testing to 24 hours.. "For travelers outside the European Union, it will be necessary to present a negative PCR test of less than 48 hours, even for the vaccinated. Flights with southern Africa should be re-established, with however" a drastic framework ", specified Gabriel Attal. .
And while some countries, such as Germany, are now considering compulsory vaccination, the Minister of Health assured that it was not yet "no choice of France". According to him, the strategy implemented so far is sufficiently effective:"Health pass, barrier gestures, social distancing, wearing a mask wherever it is compulsory, limitation of large gatherings, caution towards each other […]. It is up to us, citizens, to limit the risk of the virus spreading through our daily actions and behaviors and thus, break this wave like the previous ones. We will then not be forced to take further restrictive measures for everyone and will be able to enjoy the holiday season."said the Minister of Health.
At the same time, the vaccination campaign is continuing. More than 5 million French people have made an appointment for their booster dose since the announcement of its mandatory extension to all adults, according to Gabriel Attal. To facilitate vaccination, the government has requested the opening of 300 additional vaccination centers.
[ad_2]

Source link