News
Covid-19: in Shanghai, children tested positive separated from their parents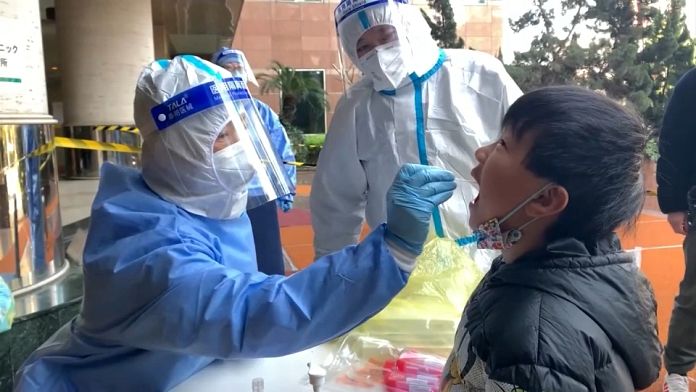 Authorities in Shanghai have defended their controversial policy of separating coronavirus-positive children from their parents amid growing frustration in the confined Chinese metropolis of 25 million.
The Chinese economic capital is the epicenter of the worst outbreak of Covid-19 in China since the beginning of 2020, linked to the Omicron variant. The vast majority of Shanghainese have been confined to their homes since Saturday.
The Ministry of Health announced on Monday more than 9,000 new positive cases in Shanghai – 95% asymptomatic. The town hall is currently carrying out a screening of all residents.
Children separated from their parents
In China, anyone who tests positive, even asymptomatic, is isolated from uncontaminated people. Authorities Shanghainese confirmed on Monday that this measure also applies to children.
"If one of the parents is also infected, he will be able to accompany the child and take care of him "in a dedicated place" where they will be treated", said Monday Wu Qianyu, a municipal health department official.
Corn "if the members of the family do not fulfill the conditions of accompaniment", that is to say are not contaminated themselves, the children will be separated from their parents", she said to the press. Those over 7 years old will be accommodated in quarantine centers and those under 7 years old, if they are alone, will be taken care of by public health centers – with a priori superior comfort.
Unverified videos have been circulating the internet in recent days showing young children and unaccompanied babies in what appears to be a quarantine facility.
Strict containment
After several weeks of targeted closures of specific residential buildings, the city opted for strict confinements in the eastern and then western parts of the metropolis – supposed to last four days each.
But containment continues in most of Shanghai. If the logistics are relatively well oiled, residents complain of difficulties in obtaining supplies of fresh produce, accessing hospitals or taking their dogs out.