News
COP26: all agree on climate target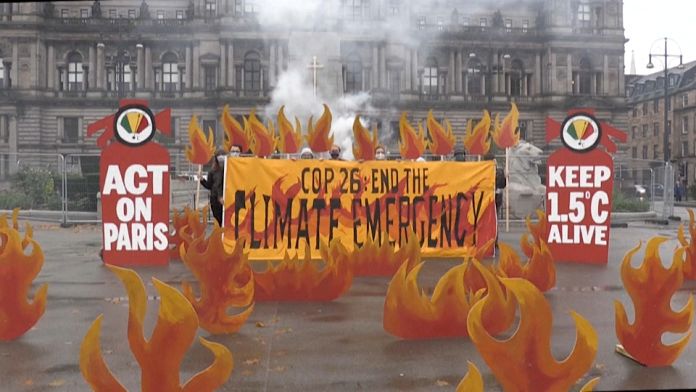 Six years after the Paris Agreement, a sense of urgency or "last chance" to save the Earth from the climate crisis permeates leaders and activists.
Already present in Scotland, in Glasgow, activists have set the tone with this burning climate: the outcome of COP26, which starts on Sunday, will mean no more and no less than life and death for the human species, they say. World leaders must reach an agreement to stop global warming by really limiting it to a rise of one and a half degrees or it will be the point of no return.
This goal is endorsed by the European Commission, which advocates for the reduction of greenhouse gas emissions :
"We need leadership for credible decarbonization commitments in order to reach the goal of net zero by mid-century. But we also need sufficient commitments to actually reduce emissions in this decade. The science is very clear about this. Science tells us that it is urgent" said Ursula von der Leyen, President of the European Commission.
John Kerry, US Special envoy for climate, also made a statement at the London Schools of Economics :
"To avoid disaster, scientists tell us, we need to reduce our global greenhouse gas emissions by at least 45% by 2030, in order to achieve carbon neutrality by 2050. It is in this context that we are going to Glasgow, and I am going there as an optimist."
Protests like that of the Extinction Rebellion group in this refinery are multiplying against fossil fuels.
Earlier this week, the UN Secretary general said that our development model based on these fossil fuels must change otherwise it was the death warrant of the human species. But the task is titanic.
COP26 President Alok Sharma is well aware of this :
"I mean, it's going to be tough, it's going to be a big, big challenge. The goal is to get nearly 200 countries to reach consensus on some of these difficult issues that have been outstanding for six years now."
Ahead of the opening of COP26, China, the world's largest emitter of greenhouse gases, formally submitted its new climate commitments on Thursday, but they were greeted freshly by climate advocates.
Beijing's new "national contribution" (NDC) was highly anticipated, with some observers hoping it could boost the ambitions of this crucial climate conference, as the devastating effects of climate change are increasingly felt: mega fires, heatwaves, floods…
Not surprisingly, it repeats the main commitments already made by Chinese President Xi Jinping: reaching its peak emissions "before 2030" and carbon neutrality "before 2060".
These new commitments published by the United Nations Framework Convention on Climate Change (UNFCCC) also provide for a reduction in carbon intensity (CO2 emissions as a proportion of GDP) of more than 65% compared to 2005.
Source link