News
"Convoy of Freedom": on the Canadian model, the truckers want to block Paris this Saturday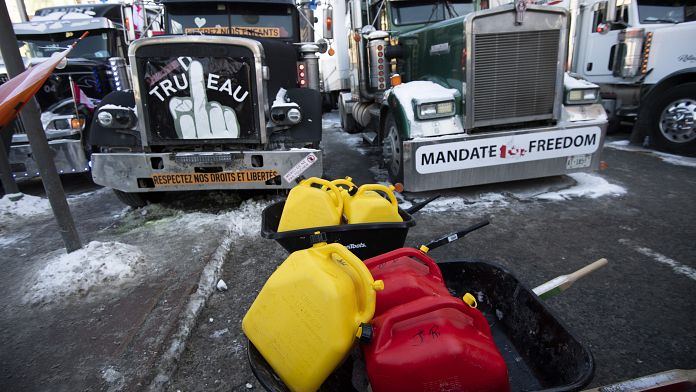 Thousands of opponents of the vaccine pass announce on social networks that they want to "ride in Paris"Saturday as part of a citizen action called"convoys of freedom", inspired by that of the Canadian truckers.
In Facebook and Telegram groups "Convoy France official", which each had around 23,000 members on Monday, these activists are trying to organize a large-scale national action to "respect for fundamental rights and freedoms".
Six "convoys" of carpooling or individuals on board their own vehicles are announced on Wednesday, departing in particular from Bayonne, Nice, Strasbourg or Cherbourg.
These demonstrators hear reach Paris on Friday evening, without any specific meeting place being mentioned. Some then call for joining Brussels for a "european convergenceon Monday, February 14.
As in Canada, these truck drivers intend to protest against the vaccination pass and to campaign for the "defense of freedoms", which remains the preferred argument of antivax across the Atlantic and in Europe.
Block action?
"Everyone is free", but Convoy France does not directly call for a regrouping or blocking action, insisted on Sunday in a video chat Marisa, spokesperson for this new movement.
"This initiative is taken seriously by the authorities", indicated a police source who announces "vigilance devices".
"However, the assessment of the potential threat is still the subject of analyzes by the intelligence services, given the electoral context and the desire to play mimicry with the Canadian movement.", added this source.
Monday morning, a first convoy of around thirty demonstrators who were trying to reach the capital in their vehicles was intercepted between Essonne and Seine-et-Marne "in the calm", by the police.
On the chats consulted by AFP, a few messages mentioned possible actions, particularly on the Paris ring road.
But the majority of participants rather offered moments of conviviality through the distribution of meals or accommodation on the road.
In Canada, pro-Trump, Quebecers, far right and radical left
In Canada, a protest movement initiated by truckers, for whom the vaccine is compulsory in order to cross the border with the United States, has paralyzed the capital for more than a week. Ottawa, where a state of emergency has just been declared.
In convoys arriving in Ottawa in recent days, many observers have noted the presence of American Confederate flags, pro-Trump banners, or even Nazi flags. An explosive mix that also includes members of the libertarian movement Anonymous and plotters from all sides.
In France, most of the participants in this French version of the movement are close to the mobilizations of "yellow vests"and want to find"a new way to express their general annoyance", beyond the local demonstrations, told AFP an organizer who requested anonymity.
But it is not just a mobilization of truck drivers, insisted this source.
Two unions in the road transport sector, FO and the CFTC have confirmed to AFP that they are not not associated with this movement.
But a fundamental difference is due to the very different conditions in which the trucking profession is exercised in Canada and in France. In Canada, truckers are independent and own their truck. In France, employee of a transport company, the driver, if he participates in disturbing public order, risks dismissal and / or withdrawal of license…