News
Collision between two cargo ships in the Baltic Sea, two missing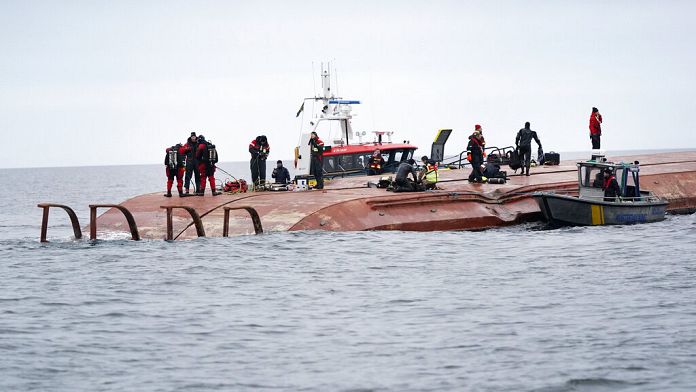 Important relief efforts are working on Monday to find two sailors missing in the cold waters of the Baltic Sea after a night collision between two cargo ships in southern Sweden which capsized one of the ships.

The accident happened around 3.30am local (02.30am GMT) in the Baltic Sea between the Swedish port of Ystad at the southern tip of the country and the Danish island of Bornholm between a British freighter and a smaller Danish ship, which is the one that capsized, the Swedish maritime authority told AFP.
The British ship, the "Scot Carrier", "put a rowboat into the sea to find survivors and they heard screams in the water but they couldn't find anyone," said Jonas Franzén, a porter. word of the Maritime Traffic Authority.
A major rescue operation involving nine boats and a helicopter is underway in very cold waters. At just four degrees, every hour spent at sea lowers hopes of survival.
The Danish ship, the Karin Høj, floats on the surface, fully overturned, according to images released by the emergency services.
The two missing are the two crew members of the Danish freighter, confirmed to AFP the owner of this 55-meter-long ship.
Preliminary investigation
"There are two crew members," said Søren Høj, adding that according to his information, "the ship was empty".
The causes of the accident are not yet known. A preliminary investigation for "aggravated negligence at sea" has been entrusted to a prosecutor in Sweden, according to the coast guard.
The British ship, a cargo of about 90 meters is not in difficulty, according to Swedish relief.
"The Danish freighter was heading towards Denmark, while the British sailed towards (the Swedish island of) Gotland," the maritime authority told AFP.
Towing cables were laid on the Karin Høj to run aground on the coast, according to the emergency services.
"This is to prevent a sinking and allow divers to search for missing crew members," the coast guard said in a statement.
No polluting leaks were found, but the emergency services took measures to avoid any pollution.
The sector is an important maritime traffic route, to access the Öresund Strait which connects the North Sea and the Baltic via the seas of Kattegat and Skagerrak. But collisions remain rare.
The Swedish coastguard had just completed this weekend a major rescue operation to extinguish a major fire on a cargo ship, the Almirante Storni, off Gothenburg, the country's largest port.
Source link