News
Carles Puigdemont, face of Catalan independence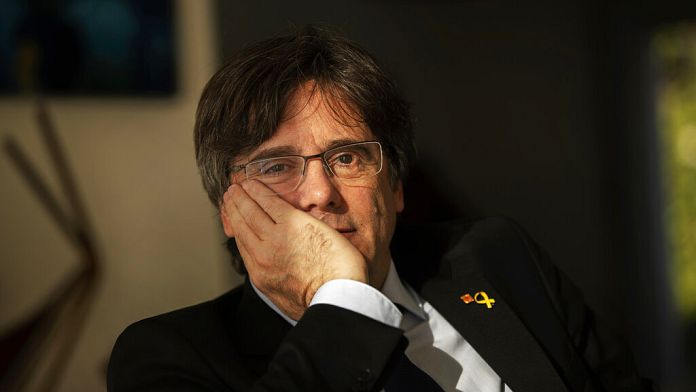 Arrested Thursday in Italy on the basis of an arrest warrant issued by the Spanish judiciary, Carles Puigdemont has become the face of Catalan independence since the attempt to secede from Catalonia he led in 2017″s.
"Enough. Amnesty is the only way. Self-determination the only solution. At your side Carles", was quick to react on Twitter the current Catalan President Pere Aragonès to the announcement of the arrest of Mr. Puigdemont, who briefly held the post from January 2016 to October 2017 before being removed from office by the Spanish government.
Married to a Romanian journalist with two daughters, Mr Puigdemont was almost unknown – outside pro – independence circles-when he became head of the Catalan regional government.
Prior to his election as head of Catalonia, his only political experience was as mayor of the pro-independence stronghold of Girona, a city of 100,000 inhabitants.
Barely a year and a half after coming to power, this 58-year-old former journalist with a thick helmet of brown hair had organized with his government, despite the ban on justice, a self-determination referendum marred by police violence that was followed a few weeks later by a stillborn declaration of independence.
The conservative-led Spanish government responded by placing the region under trusteeship, removing Puigdemont from office and arresting the movement's top leaders.
Escape to Belgium
"To all those who wanted to denigrate us, to silence us, I tell them that we will defend ourselves, well", he said from Belgium, where he had fled to escape prosecution.
He had since settled in Waterloo, south of Brussels.
Born in Amer, a mountainous village of 2,200 inhabitants 100 km from Barcelona, where his family still runs his father's pastry shop, Carles Puigdemont, the second of eight siblings, has independence in his blood.
"In Catalonia, many have become pro-independence by allergic reaction to Madrid's politics. But not him, he has always been.", explains the poet and chronicler Antoni Puigverd, who was one of his relatives.
He was elected MEP in May 2019.
By leaving Catalonia for Belgium, this man of unpredictable character had abandoned many of his former "Ministers", arrested and sentenced to prison for sedition in 2019 during a trial held without him.
The nine jailed pro-independence activists were pardoned in June by the Spanish government of Pedro Sánchez.
Sometimes criticized by his critics "fugitive" or "coward", Carles Puigdemont had continued to occupy the political field with his party Together for Catalonia (JxC).
He had first been replaced at the head of the region by his dauphin Quim Torra, before that Pere Aragonès, a moderate independentist, was elected regional president in May after elections that had returned to power the independence parties.
Since the election of Mr Aragonès, relations between Madrid and Barcelona have eased, allowing last week a resumption of negotiations to try to find a political solution to the crisis.
Source link