News
Captain Kirk ready for takeoff, heading to space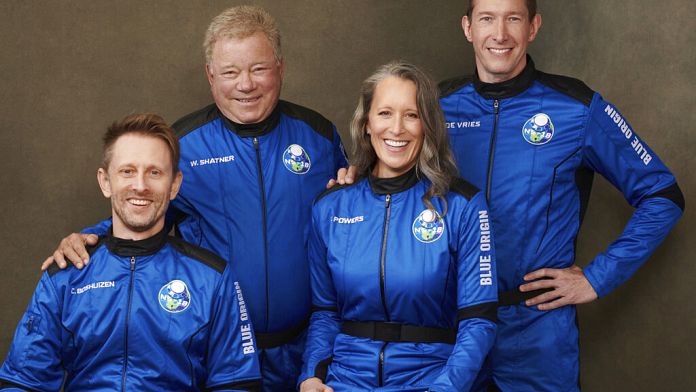 It is this Wednesday that the "Captain Kirk" of the USS Enterprise, or rather the American actor William Shatner, will fly into space, the real one, not that of the studios of the television series Star Trek.
The 90-year-old veteran will become the oldest person to reach space for a few minutes. This trip was proposed to him by Jeff Bezos, who created the company Blue Origin. This will be the second mission of the American billionaire's rocket.
And William Shatner prepared. It is ready to take off at 14h, European time, this Wednesday, from west Texas.
This news fascinates some California residents, such as Burbank resident Joseph Barra :
"William Shatner was talking to an astrophysicist and they asked him a very important question. They asked him, "What are you going to do when you're up there? You gonna play with the gadgets?"And William Shatner replied: "I'm especially eager to look out the window". »
When Captain Kirk climbs aboard the New Shepard rocket, fiction and reality will merge, creating one of the most striking images of our time…
New Shepard and the Karman line
The New Shepard rocket, fully automated and reusable, takes off vertically. It is composed of a launcher and a capsule with an ultra-modern design, which is detached in flight.
Thus propelled, it exceeds what is called the Karman line which marks, at an altitude of 100 km, the boundary of space according to the international convention.
Passengers can detach themselves from their seats and float for a few moments in weightlessness.
The capsule then falls back to Earth braked by three parachutes and a retro-thruster. The launcher returns from its side to land automatically not far from its place of take-off.
In total, the experience lasts only eleven minutes.
Three other travelers alongside Captain Kirk
In addition to the Canadian actor, three other passengers will be on board this Wednesday.
Chris Boshuizen is a former Nasa engineer and the co-founder of Planet Labs, an American company that photographs the Earth in high resolution every day using satellites.
Glen de Vries is he the co-founder of Medidata Solutions, a company specializing in clinical trial tracking software for the pharmaceutical industry.
Audrey Powers, responsible for Blue Origin, is in charge of flight operations and maintenance of the rocket.
Source link