News
Canada: container ship under surveillance, fire under control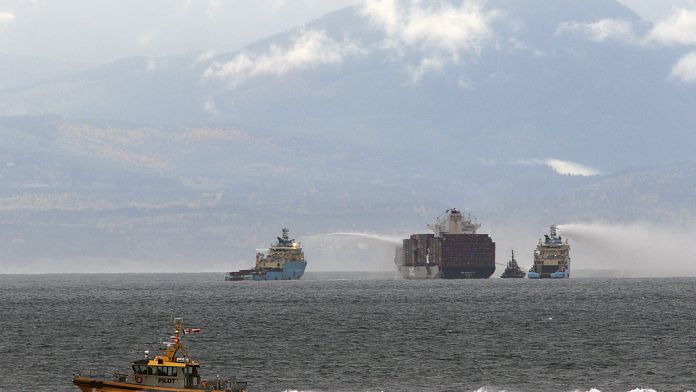 The Canadian Coast Guard plans to dispatch firefighters aboard the Cypriot container ship that caught fire on Saturday. Zim Kingston is 8 km from Victoria on Canada's Pacific Coast. An emergency zone was declared and expanded yesterday due to "toxic gases" escaping from several burning containers. Intervention ships send cold water to her hull. The flames cannot be doused directly, due to the chemicals on board.
"The fire on the Kingston Miz has been stabilized," the Canadian Coast Guard tweeted late in the day, after mobilizing several vessels all weekend to contain the fire, which took in the front of the cargo ship.
"Depending on Monday's weather conditions, hazardous materials firefighters will board the ship to fight any lingering fires and ensure they are extinguished," the coast guard continued, as a strong storm is announced Monday on the North American west coast from San Francisco to Vancouver.
The ship's owner, the Cypriot company Danaos, announced to AFP the sending on board of loss adjusters "to ensure that the conditions are met to allow the return" of the 16 crew members who had left Saturday. Five sailors, including the captain, remained on the container ship.
Although a priori the situation does not present risks on land, such as an oil spill or a toxic tide, "strong gales are expected in the region"on Sunday evening and "teams will monitor the quality of the air both on the water and from the shore", said the authorities in response to concerns raised by the chemical smoke released by the blaze.
The Canadian Weather service has warned that "a rather intense fall storm" will hit the Canadian coastline as early as Sunday evening with winds of 70 to 90 km/h expected in the Victoria, British Columbia area, off which the container ship is anchored.
Precisely, the Cypriot ship is in the strait Juan de Fuca that marks the maritime border between Canada and the United States, explained its owner.
He was in these border waters Friday night "waiting to be able to access the port of Vancouver, when an extreme weather episode caused a significant list of the ship, which led to the fall overboard of containers," summarized the Cypriot shipowner.
It was as a result of this incident that two damaged containers caught fire on Saturday, Danaos said, while the Canadian Coast Guard reported Sunday morning that "a fire broke out in 10 containers".
According to public broadcaster CBC, 40 containers were lost in the Pacific Ocean and the Canadian coast guard and their American counterparts were working together to find them. The container ship is carrying more than 52 tonnes of chemicals, according to CBC.
Source link