News
Burma: the junta releases more than 800 prisoners on the occasion of the national holiday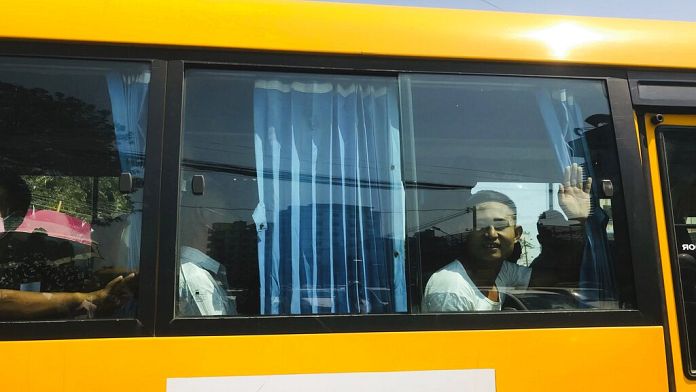 In Burma, families are waiting impatiently outside Insein prison, in the south of the country, to find their loved ones who will be released by the power in place.
The military junta announced on Saturday that it would release more than 800 prisoners in an amnesty on the national holiday of Union Day.
According to a "pardon order in commemoration of the Diamond Jubilee of Union Day", which falls on Saturday, 814 prisoners will be released, junta leader Min Aung Hlaing said in a statement.
This amnesty mainly concerns prisoners from Rangoon, said junta spokesman Zaw Min Tun, without specifying whether or not Australian academic Sean Turnell would be one of these released detainees.
This amnesty mainly concerns prisoners from Rangoon, but the number of political detainees among those who will be released has not been specified.
The junta had released nearly 23,000 detainees in April last year, rights organizations feared at the time that it was a question of making room in prisons to lock up opponents and sow chaos in the population. A similar number of prisoners were released for Union Day last year.
UNHCR: "There is a rapid deterioration in the security situation"
For its part, the United Nations High Commissioner for Refugees (UNHCR), announced on Friday a rapid deterioration of the security situation in the country.
"As the armed conflict escalates, security is rapidly deteriorating across the country and there are no signs of easing. UNHCR therefore anticipates an increase in internally displaced persons," said UNHCR spokesman Matthew Saltmarsh.
The February 1, 2021 coup sparked large protests and a bloody military crackdown, with more than 1,500 civilians killed and nearly 12,000 arrested, according to a local watchdog group.
Burma Union Day
In the capital Naypyidaw, the junta celebrated Friday, Union Day, with a parade of hundreds of soldiers and civil servants.
In a speech, Min Aung Hlaing reiterated his accusations of fraud in the 2020 election won by Aung San Suu Kyi and called on the multitude of armed ethnic organizations fighting against the Burmese military, and among themselves, to stand together. sit at the negotiating table.
February 12 is a national holiday in honor of Aung San, father of Burmese independence.