News
British Parliament's tribute to MP Sir David Amess, fatally stabbed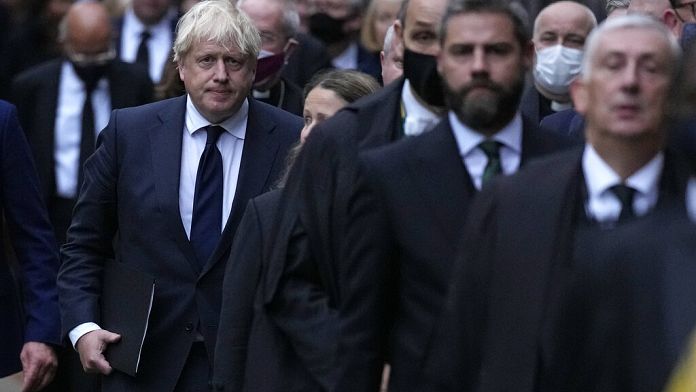 In London, Parliament paid tribute to Sir David Amess, this Conservative mp stabbed to death on Friday during a parliamentary permanence.
A "dedicated" man
The suspect, a 25-year-old British man of Somali origin, is still being questioned by investigators who favour the hypothesis of a potentially Islamist terrorist act.
Dressed in black, the MPs went in tight rows to St Margaret's Church, Westminster Abbey. Earlier, they observed a minute's silence in the House of Commons and paid tribute to "a man of conviction".
"This chamber needs people like Sir David, dedicated, passionate, firm in their convictions, who never disrespect those who think differently", said British Prime Minister Boris Johnson.
"Each tribute portrays the portrait of a committed member of parliament, a man whose decency touched everyone he met", said for his part Keir Starmer, the leader of the British opposition.
Debate on the safety of elected officials
The family of Sir David Amess gathered at the scene of the crime. This murder, which comes five years after that of MP Joe Cox, has reignited the debate in the UK about the need to strengthen the security of elected officials.
Several mps testified that they had received death threats that made them, for some, consider leaving politics.
If the government has raised the possibility of providing police protection, on a case-by-case basis, to MPs, Justice Minister Dominic Raab warned Monday of the risk of creating a "gap" between the population and elected officials.
The killer's motives remain to be clarified
Investigators have until Friday to question the suspect, having taken him into custody under the terrorism act.
Among the tracks considered, they are examining David Amess's links to the State of Qatar, according to the Times which cites sources explaining that the "clear reason why he was targeted has not been established".
Mr Amess was chairman of the transpartisan parliamentary group on UK-Qatar relations and his last visit to the country took place this month.
Other media outlets, such as The Telegraph, claim that he was targeted at random and that the suspect had planned to kill other MPs.
According to one of his friends, quoted by the tabloid The Sun, "he became completely radicalized on the internet" and became enamored with the preacher Anjem Choudary, a figure of the radical Islamist movement in London.
Source link