News
Blue Origin completes third manned space flight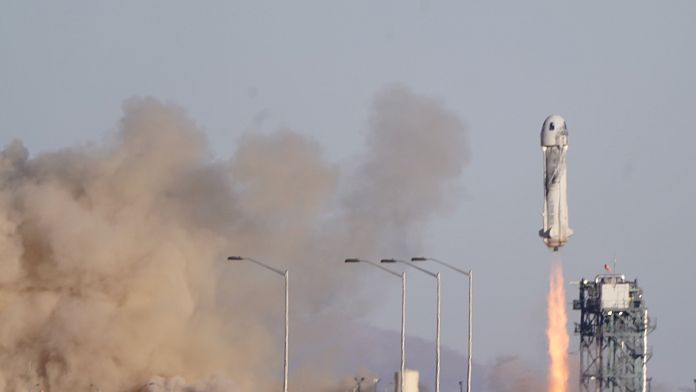 The Blue Origin company of American billionaire Jeff Bezos completed its third manned mission on Saturday, briefly carrying six passengers into space, including Laura Shepard Churchley, the daughter of the first American to cross the final frontier in 1961. .
"We had a superb flight today," said Bob Smith, CEO of the company created by the founder of Amazon and a pioneer in space tourism.
The rocket took off at 9:01 a.m. local Texas (3:01 p.m. GMT) for this 10-minute and 13-second flight that allows its passengers to spend a few moments in space.
This is the first time that the New Shepard rocket capsule, aptly named after American space pioneer Alan Shepard, has been operating at full capacity. Previous flights had so far only had four passengers.
Also on board were an American celebrity, television presenter and former professional American football player Michael Strahan, and four passengers who had paid for the trip: businessmen Dylan Taylor and Evan Dick, and a father and son. as a child, Lane and Cameron Bess, 23. The price of the ticket is not known.
The characteristically shaped rocket takes off vertically and at about 75 km altitude the capsule separates from the launcher, continuing its trajectory until it reaches over 100 km – the Karman Line, which marks the beginning of the space according to the international convention.
"Very proud"
Passengers can detach from their seats, float for a few moments in zero gravity, and admire the curvature of the Earth through very large windows.
The launcher automatically returns to land on a runway, while the capsule begins a free fall to return to Earth, before being braked by parachutes, then retro rockets.
On their arrival on Earth, in the Texan desert, Laura Shepard Churchley and Michael Strahan congratulated each other with a great burst of laughter, pioneers of an industry in full development under the leadership of Jeff Bezos or his competitor Richard Branson, founder by Virgin Galactic.
The two billionaires were present on board the inaugural flights of their respective vehicles, last July. Virgin Galactic, July 11, preceded Blue Origin by a few days, July 20.
Saturday's flight was a new tribute to Alan Shepard who had performed a 15-minute space flight on May 5, 1961, 23 days after the historic flight of the Soviet Yuri Gagarin, who was the first human in space. .
Alan Shepard is also the fifth of twelve men to have set foot on lunar soil to date. He died in 1998.
"It's pretty funny for me to say that a genuine Shepard is going to fly in a New Shepard," Laura Shepard Churchley said in a Blue Origin video when the theft was announced.
"I am very proud of my father's heritage," she added.
Blue Origin has warned that it has already planned several flights to space in 2022, on which seats will be paid.
Source link