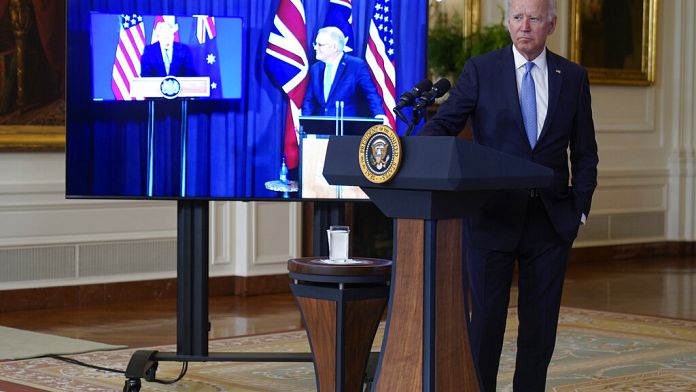 AUKUS"is the name of the security pact that has just emerged between the United States, the United Kingdom and Australia, a broad partnership in security, cyber defense, artificial intelligence and quantum technologies intended to counter the influence of China. The three leaders held a virtual press conference to make their big announcement.
"It's about investing in our greatest source of strength, our alliances, and updating them to better deal with the threats of today and tomorrow. It is about bringing together America's current allies and partners in new ways and amplifying our ability to collaborate, recognizing that there is no regional divide separating the interests of our Atlantic and Pacific partners." explained Joe Biden, the President of the United States.
It was then the turn of Boris Johnson, Prime Minister of the United Kingdom to speak :
"The UK, Australia and the US are creating a new trilateral defence partnership called AUKUS, with the aim of working hand in hand to preserve security and stability in the Indo-Pacific area. We are opening a new chapter in our friendship, and the first objective of this partnership will be to help Australia acquire a fleet of nuclear-powered submarines."
"Based on our shared history of maritime democracies, we are committed to a common ambition to support Australia in the acquisition of nuclear-powered submarines," the three partners said in a joint statement, which clarifies that it is indeed propulsion, and not armament.
"The only country with which the United States has ever shared this type of nuclear propulsion technology is Britain" from 1958, a senior White House official had indicated earlier. "This is a fundamental, fundamental decision. This will bind Australia, the United States and Britain for generations."
After which, Scott Morrison, Australian Prime Minister clarified :
"We intend to build these submarines in Adelaide, Australia, working closely with the United Kingdom and the United States. But let me be clear : Australia is not seeking nuclear weapons or civilian nuclear capability."
This historic pact has therefore immediately translated into a dagger for France since the contract between Canberra and Paris for the delivery of 12 conventional powered submarines in 2016 is cancelled. This is 56 billion euros that escapes the French shipbuilding industry.
"The decision we have made not to continue with the Attack-class submarines and take another path is not a change of mind, it is a change of need," the Australian Prime Minister explained on Thursday.
"A regrettable decision"and" contrary to the letter and spirit of the cooperation that prevailed between France and Australia" reacted the Ministries of Defense and Foreign Affairs.
And it is not sure that Paris takes comfort with the conciliatory words of Joe Biden, who assures want "working closely with France" in this strategic Indo-Pacific area and which qualifies France as a" key partner " of the United States.
New Zealand, which has banned all nuclear-powered ships from its waters since 1985, announced that future submarines of its neighbor and ally Australia would not be welcome at home.
Australia, it said Thursday, after the announcement of the Aukus pact, that it was issuing an "open invitation" to dialogue to Chinese President Xi Jinping.
As for the American president who intends to measure himself against China in the region, but in his own way, he will gather on September 24 in Washington the Prime ministers of Australia, India and Japan to revive a diplomatic format, the "Quad", which has been vegetating for several years.