President of FC Barcelona, Joan Laporta returned to the succession of Lionel Messi at Barça. The president of Barcelona has notably unveiled the underside of the attribution of the number 10 to Ansu Fati.
Ansu Fati Lionel Messi's successor at Barca
FC Barcelona suffered a blow this summer with the departure of Lionel Messi. The six-time Ballon d'Or left Barça as a free player to join Paris Saint-Germain. Following the departure of the aRgentine, the Barcelona board had to ensure his succession, especially at the level of the allocation of the mythical number 10. After much speculation, the bib was awarded to the young Ansu Fati. The president of Blaugranas has given the confidences of this choice, revealing in particular the attitude of the young Spanish international. "For his personality, which we are getting to know little by little, he wanted to have the number 10. That he wants it, but asks the permission of the captains, it shows his humility ", confided the Catalan leader to the microphone of Barca TV.
Fati back, Laporta's message to the competition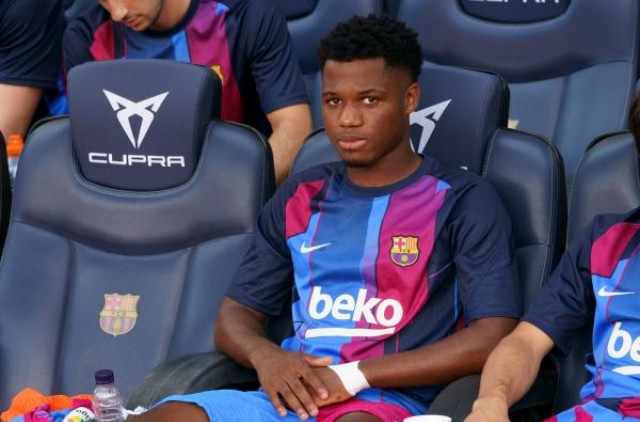 Injured since November 2020, Ansu Fati signed his return to competition on the last matchday of La Liga. Author of the last goal of the FC Barcelona during this success against Levante, the 18-year-old striker was even voted man of the match at the end of the match. Following this comeback, Joan Laporta is confident following the season of Barça. The boss of Blaugranas announces in particular that the other returns from injury will only make the squad of the Catalan club more competitive.
" With the recovery of Ansu [Fati], [Ousmane] Dembélé and Sergio Aguero, we will start to have an increasingly competitive team", dropped the Barcelona president. For the moment, Barcelona is making a far from glittering start to the season. Defeated Wednesday by Benfica, the Catalan club is last in its pool in the Champions League without a single point. In La Liga, the team coached by Koeman is only 6th in the standings with 5 units behind Real Madrid.