Sports
Basketball | Basketball – NBA: Steve Nash's terrible observation on the Kyrie Irving controversy!
Basketball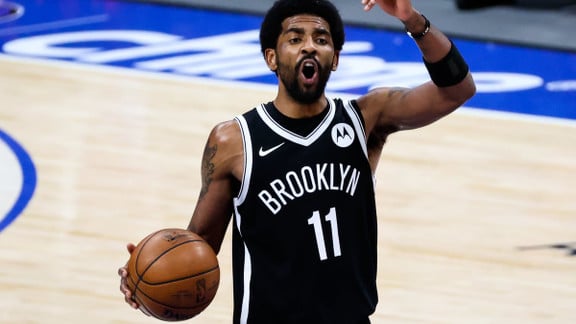 While Kyrie Irving still refuses to be vaccinated against Covid-19, the Brooklyn player could miss all of his team's home games. For Steve Nash, the coach of the Nets, pessimism is in order.
Polemic Kyrie Irving is still talking about the side of the NBA. The leader of Brooklyn do not want to be vaccinated against Covid-19. As a result, the 29-year-old will not be allowed to play all matches that will take place at home, at Barclays Center, the lair of Net. A hard blow for Steve nash, who will therefore rarely be able to align his trio of stars, composed of Kevin Durant, James harden, and therefore Kyrie Irving.
"We understand that he will not be able to play the games at home"
In an interview for ESPN, reported by Basketball USA, Steve nash was fatalistic in the face of the situation of Kyrie Irving : " We understand that he will not be able to play the home games. We're going to have to play without him this year. It just depends on when, where and how many (matches). We are just starting to familiarize ourselves with this situation. A new rule came into effect on Friday and here we are. We try to get the big picture. In the short term, for now, I'm not sure we have a lot of answers. I think for now we're going to go with the idea that he won't be available for home games, but that can change. Who knows, the city's ordinances could change. Everything can change. Right now we're just trying to stay flexible, open-minded, and find a solution as we go along, because the information comes to us on the fly… We found out on Friday that he could come back in. building. Things are changing. No one has been through this before, and we're just trying to deal with it as we go. "
Source link