News
Australia reopens to tourists after two years of Covid-related closures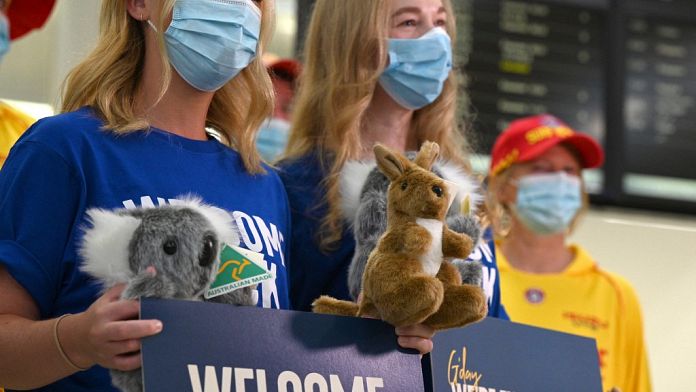 Australia reopened its external borders to all vaccinated tourists on Mondayalmost two years after imposing some of the toughest travel restrictions in the world to combat the spread of Covid-19.
"The wait is over"Australian Prime Minister Scott Morrison said at a press conference on Sunday.
"Pack your bags", he launched to potential visitors to the island-continent, adding to their address: "Don't forget to bring your cash with you, as you'll find plenty of places to spend it".
14,000 passengers expected this week
The first international flight to Sydney Airport landed from Los Angeles on Monday at 6:20 a.m. Australian time (7:20 p.m. GMT Sunday), followed by others from Tokyo, Vancouver and Singapore.
"We've all been waiting (this time) _long_s," said Alan Joyce, chief executive of Qantas airline, which expects to bring more than 14,000 passengers into Australia this week.
But only 56 international flights were due to land in Australia within 24 hours of reopening, well below pre-pandemic levels, but Mr Morrison said he had "no doubt"That number will increase over time.
An opinion shared by Dan Tehan, Minister of Tourism, wearing a t-shirt with the word "Welcome" printed on it: "I think we're going to see a very, very strong recovery".
Omicron broke the zero Covid strategy
The huge island had closed its borders in March 2020, trying to take advantage of its insularity to protect itself from the pandemic.
At first, for several months, this draconian closure and a strict screening and tracing policy made it possible to contain the effects of the virus.
But the arrival of the Omicron variant then aggravated the situation, leading to tens of thousands of contaminations and tens of deaths per day.
In total in almost two years, the Covid has killed 4,913 people in Australia. A total of 15,298 new cases were recorded there on Sunday, well below the historic peak of 277,619 cases on January 30.
During these two years, the Australians were, most of the time, not allowed to leave their country, and only a few visitors obtained an exemption to enter the territory, which earned the country the nickname of "fortress Australia".
A cost of 2.27 billion euros per month
These restrictions have separated families, hurt the tourism sector and sparked debates about Australia's status as an open, modern and outward-looking country.
Closing the borders has cost each month 2.27 billion euros, according to the country's Chamber of Commerce and Industry.
Even the tennis world number 1, Novak Djokovic, was not allowed to participate in the Australian Open last January because he was not vaccinated. The government expelled him after a long legal series.
In detail, travelers will not be able to reach the vast state of Western Australia on Monday, but will have to wait until March 3. In this region, the authorities have conducted a particularly strict so-called "zero Covid" policy in recent months, cutting it off from the rest of Australia.
To attract tourists, the Australian government launched a 40 million Australian dollar advertising campaign.
But the Australian Council (ATEC) responsible for international tourism spoke of "worrying signs" of the possible reluctance of foreigners to come to Australia, due to the various internal restrictions on travel, and the image that the draconian closure would have left. country for two years.