[ad_1]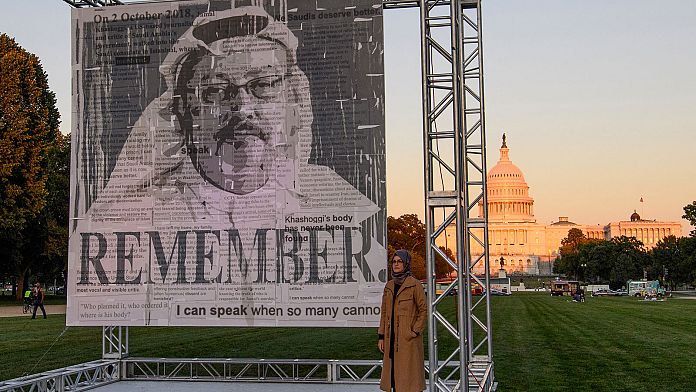 An alleged member of the commando involved in the assassination of Saudi journalist Jamal Khashoggi in 2018 in Istanbul was arrested Tuesday morning at Parisian airport of Roissy Charles-de-Gaulle and placed in judicial detention, an arrest which comes three days after the visit of French President Emmanuel Macron to Saudi Arabia.
Khalid Alotaibi, 33, was arrested by border police as he was about to take a flight to Riyadh, a source familiar with the matter said.
He was placed in judicial detention under an international arrest warrant issued by Turkey, said a judicial source.
Once his identity has been confirmed, he should be presented to the public prosecutor at the Paris Court of Appeal on Wednesday, which should notify him of the arrest warrant.
Khalid Alotaibi is suspected of having been part of a commando of ten Saudis sent to the Istanbul consulate on October 2, 2018 to "execute" Khashoggi and "hide the evidence" of the murder, according to documents from the British governments and Americans, consulted by AFP.
Mr. Alotaibi can refuse his extradition to Turkey. In this case, the French justice may ask that he remain in France, free, under judicial control or under extradition detention, the time that Turkey makes an extradition request. In a few weeks, the court of appeal should then rule on the extradition request.
Body not found
The arrest of the alleged member of the commando responsible for the assassination of journalist Jamal Khashoggi comes three days after French President Emmanuel Macron met with Saudi Crown Prince Mohammed ben Salman in Jeddah.
The reunion with the strong man of Riyadh, "MBS", was eagerly awaited, three years after the shock caused by the assassination of Jamal Khashoggi in Istanbul.
"We talked about everything without any taboos. And we were obviously able to discuss the issue of human rights (…) and it was a direct exchange_", said Emmanuel Macron. "The next few weeks and months will allow us to see if we move forward on this subject."
Emmanuel Macron had justified his meeting with the Crown Prince, one of the first for a Western leader since this affair, because "dialogue with Saudi Arabia is a necessity" because of its "demographic, economic, historical and religious".
Jamal Khashoggi, a former close to Saudi power of which he had become a fierce detractor, was assassinated on the premises of his country's consulate in Istanbul, in October 2018, by a commando of agents from Saudi Arabia. His dismembered body has never been found.
A US intelligence report accuses the crown prince of having "validated" the assassination.
After denying the murder, Riyadh ended up saying that it was committed by Saudi agents who acted alone. After an opaque trial in Saudi Arabia, five Saudis were sentenced to death and three to prison terms – death sentences have since been commuted.
[ad_2]

Source link