[ad_1]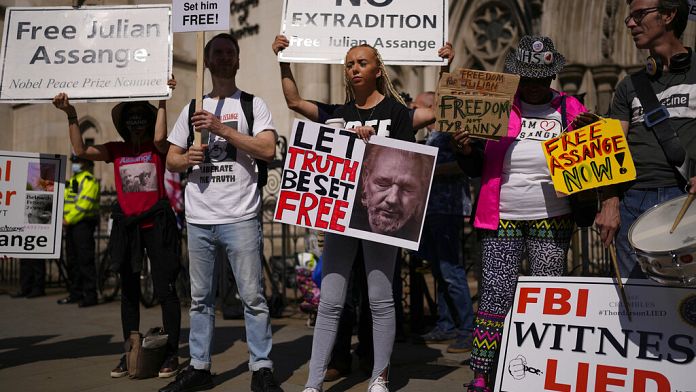 Supporters of Julian Assange, reacted with dismay and anger to the decision of the British justice to win the case Wednesday to the US government. The United States has been granted an expansion of its grounds to challenge on appeal the refusal to extradite the Wikileaks founder.
While the United States wants to try on its territory the founder of Wikileaks for leaking confidential documents, British judge Vanessa Baraitser had rejected the extradition request in January because of the risk of suicide of the 50-year-old Australian.
But American lawyers appealed and on Wednesday, the High Court in London granted them an expansion of their grounds to plead.
Medical analysis and suicide risk
The United States questions the reliability of an expert who testified in favor of Julian Assange and wants to include in their appeal a new assessment of the medical analysis that was made of the founder of Wikileaks.
Representing the United States, lawyer Clair Dobbin argued that the magistrate had "not appreciated the weight" of the elements produced by an expert who concluded that Julian Assange did not pose a risk of suicide.
Instead, she relied on evidence presented by Assange's psychiatrist expert, Michael Kopelman, who admitted to misleading the judiciary by "concealing" the fact that his client had become a father while he was cloistered in the Ecuadorian Embassy in London, she said.
According to Assange's lawyer Edward Fitzgerald, Professor Kopelman had not revealed the true nature of Julian Assange's relationship with his lawyer Stella Moris, who became his partner and mother of two children conceived with Assange, because of the "human situation" she was in at the time.
"Permanent threat"
Justice Tim Holroyde stressed that justice must be "able to answer on the impartiality of an expert witness". The hearing on the merits of the case was scheduled for 27 and 28 October.
Stella Moris, lawyer, but also companion of Julian Assange, assures that the life of the latter is "permanently threatened" for 10 years.
Julian Assange was arrested by British police in April 2019 after spending seven years recluse in the Ecuadorian Embassy in London, where he had taken refuge while on bail. He feared extradition to the United States or Sweden, where he faced rape charges that have since been dropped.
The Australian, supported by a number of press freedom organisations, faces 175 years in prison in the US for disseminating more than 700,000 classified documents on US military and diplomatic activities, including in Iraq and Afghanistan.
[ad_2]