News
Anger in Corsica because of a "Marseillaise", which would have been intoned by CRS from Bastia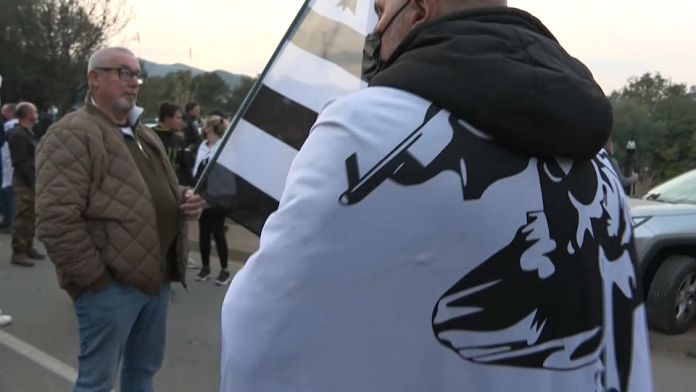 Corsican flags on the shoulder, the crowd advances towards the CRS barracks of Furiani near Bastia. In Corsica, demonstrators, at the call of independence organizations and student unions, went to shout their anger on Sunday. They accuse the CRS of having sung the Marseillaise on Friday, while Corsica was burying Yvan Colonna, the assassin of the prefect Erignac.
On social networks circulates a video allegedly shot within this cantonment of CRS, where we hear a Marseillaise.
In response to what is here considered an offense, the words "French de merde", are hung on the gates of the barracks.
"There is a phenomenon happening, there is a societal awakening, with a Corsican identity which is becoming stronger and stronger, and a whole section of the population which today has the feeling of having been robbed, assures Paul-Felix Benedetti, leader of "Core in Fronte", a minority independence movement in the Assembly of Corsica. When we believed that through elections we could obtain progress in politics, when after a few years we see a permanent negation of this popular universal suffrage, well then all that remains is the expression the street, the protest."
The demonstration brought together 500 people in Bastia and 200 in Ajaccio. Corsican politicians have denounced "pure colonial hatred".
The deadly attack in prison of Yvan Colonna has awakened violence against the French state on the island.