[ad_1]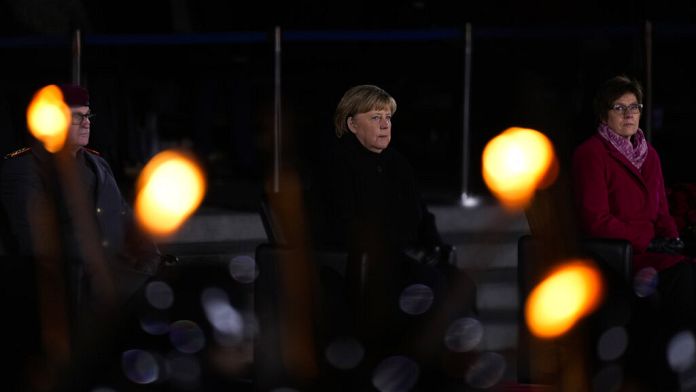 The army paid tribute to Angela Merkel on Thursday evening after her sixteen years as head of Germany. This military ritual, also returned to its predecessors, took place in the courtyard of the Bendlerblock in Berlin, the second official seat of the Ministry of Defense.
The outgoing Chancellor said she felt "gratitude and humility" in front of the "confidence"which was granted to him.
An atypical tube, from East Germany
This ceremony has been talked about in recent days in Germany because of the soundtrack chosen by Angela Merkel to say her farewell. Among her three musical choices is a 1974 hit: "Du Hast der Farbfilm vergessen" ("You forgot the color film") by East German punk diva Nina Hagen.
Asked at a press conference on Thursday about this choice, she explained that it reminded her of her twenty years in communist East Germany.
"This song was a highlight of my youth (…) The song also comes from East Germany and, coincidentally, it is still played in an area that used to be my constituency. So everything is right today", observed the 67-year-old leader.
Angela Merkel was born in the port city of Hamburg before her father, pastor and teacher, decided to take the whole family to live in the GDR to preach the gospel. In her recent farewell speeches, she has repeatedly paid tribute to an East German culture which has tended to disappear from collective memory since Reunification.
The fanfare had to adapt
In this song, Nina Hagen, known in the 1980s for her powerful voice and extravagant looks, criticizes her lover for having forgotten the color film for vacation photos, in an era before pixels, smartphones. and digital photography.
Some saw it as a mark of irony from the Chancellor after 30 years of career in a political environment dominated by men.
"By choosing a song that many bellow at the kitchen table on the birthdays of the family's uncle, the Chancellor once again demonstrates the finesse of her humor", greeted the Berlin newspaper Tagesspiegel.
The title did not appear in the register of the Bundeswehr, which had to make an express adaptation, confided the leader of the fanfare to the press.
The musicians are on more familiar ground with the rest of the Chancellor's selection: a 60s ballad "Für mich soll's rote Rosen regen" (It should rain red roses for me) and a religious hymn.
[ad_2]

Source link