News
Ambitious, high-security G20 summit in Rome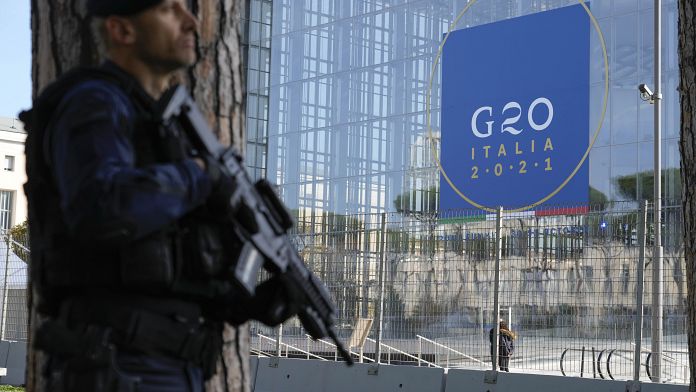 "People, Planet and Prosperity" are the three main pillars of the G20 agenda this year.
One of the key priorities will be how to reduce the inequalities created by the Covid-19 pandemic and how to accelerate the global economic recovery, while making concrete efforts to combat climate change.
The leaders of Russia and China will not come to this first G20 summit hosted by Italy. But the others will meet to discuss all these issues at the new convention center "Nuvola", in the Roman district of Eur. US President Joe Biden has already arrived, he is due to meet the Pope this Friday, as well as his French counterpart Emmanuel Macron and of course Italian Prime Minister Mario Draghi.
The host of the G20 summit, a former head of the European Central Bank, is attracting interest in the United States. Some commentators paint Mario Draghi, past the prestigious Massachusetts Institute of Technology and the American bank Goldman Sachs, household names for American elites, as the new star of the European political scene.
Champion of multilateralism, Mario Draghi does not hide his desire for a breakthrough on greenhouse gases. He hopes that world leaders will set a common deadline to reach zero emissions even before COP26 in Glasgow.
Maximum security in Rome
Organizing the first physical gathering of the leaders of the world's largest economies since the beginning of the Covid-19 epidemic was no small feat for his Italian government who deployed a whole arsenal of security.
_"On Saturday, when the G20 leaders' summit begins, it will be impossible to hold here. An area of 10 square kilometres will be demarcated around the venue. The so-called "red" area, which stretches between La Nuvola and Palazzo del Congressi, will be under high surveillance and will be constantly controlled by helicopters, snipers and drones. _about 2,000 police and 500 soldiers were deployed for the event, not only to secure the area but also to monitor any other sensitive sites, including essential government buildings and foreign embassy headquarters. Given what has happened in recent days, the Italian authorities fear that further protests against the Sanitary Pass will turn violent and that the rallies will be infiltrated by foreign protesters," explains our correspondent in Rome, Giorgia Orlandi.
Italian intelligence services are also monitoring online activity on social media platforms to see if groups are planning to stage unauthorised protests.
Only gatherings classified as "safe" have been given the green light by the authorities, provided they take place away from the summit sites.
For the duration of the event, border controls are tightened and a no-fly zone is in place over most of the Italian capital.
Source link