News
Amal, the giant puppet symbol of migrant children, made a stopover in Assisi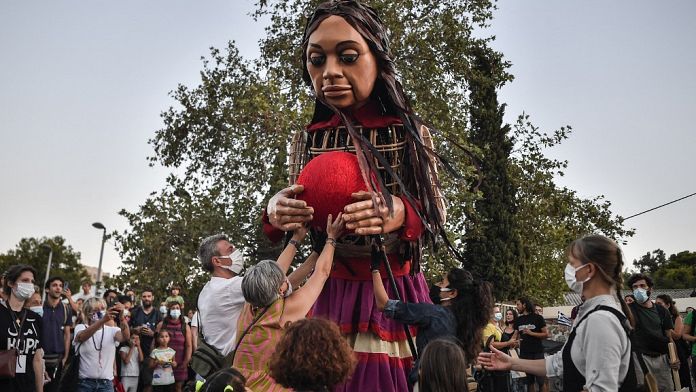 Amal is nine years old from Syria. Like many other children, she traveled thousands of miles to escape the war and find refuge in Europe.
Changing perspectives on migrant children
This giant puppet tells the story of migrant children " s. Her journey, left at the end of July from Turkey, must lead her to England, making about fifty stops across the continent.
The South African company Handspring Puppet Company is at the origin of this artistic performance entitled "The Walk" which aims to raise awareness of the fate of migrant children.
"The idea is to recreate the journey that millions of people have made in order to pay tribute to them in some way, underlines David Lan, producer of The Walk. _"We decided that it would not be us who would do the walk, but that it would be a child, like the hundreds and thousands of young people, very young people, who made this journey to find safety."
_
Sitting, a step loaded with symbols
During her long journey through Europe, Amal arrived in Assisi, one of the most important spiritual centers on the continent.
It was in Assisi that the very first interreligious meeting was held in 1986, promoted by Pope John Paul II. It is therefore a very symbolic step for this puppet that represents all those who seek refuge in Europe from war and poverty.
"If this migratory route still exists in the streets of the world, with children, refugees who feel lost, who walk to reach a hug, a home, to realize a dream… All this tells us that humanity has lost its way", underlines Father Enzo Fortunato of the Order of St. Francis.
Assisi is therefore a stage loaded with symbols to change the way people look at the odyssey of migrants. It was here that St. Francis of Assisi was born, whose teachings still resonate today, emphasizes Stefania Proietti, the mayor of the city : "Saint Francis taught us to embrace the leper, to welcome the other and to consider him better than we consider ourselves. He taught us to go to the other even if he belongs to a different religion, to a different culture."
Four people are needed to operate the legs and arms of this 3.5 meter high puppet.
After Italy, Amal will also go through France, Switzerland, Germany, Belgium and finally England. His arrival in Manchester is scheduled for November.
Source link