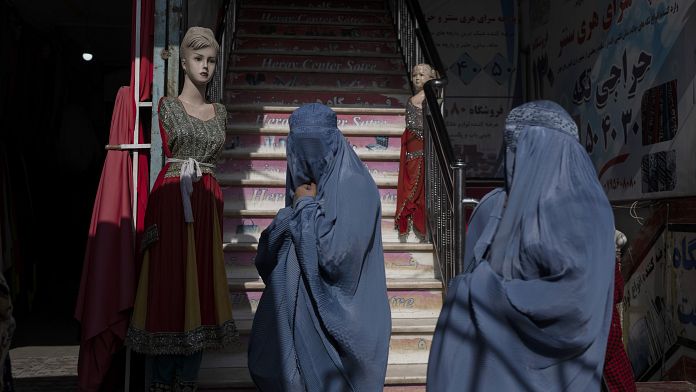 The Taliban's supreme leader on Friday called on the government, in a decree, to "take serious steps to uphold women's rights" in Afghanistan, including against forced marriages, without mentioning the right to work or study.

"No one can force a woman to marry", declares Mullah Hibatullah Akhundzada, ordering courts, governors and several ministries to fight against forced unions, very common in Afghanistan.
The decree comes as the Taliban try to convince the international community to restore financial aid to the country to face the serious humanitarian crisis that is hitting it, three and a half months after taking power.
Respect for the rights of Afghan women, in particular access to education and work, is one of the key conditions put forward by foreign donors for the resumption of aid.
The Islamists have so far only allowed some of the female civil servants, those working in education and health, to return to work. They also halted classes for teenage girls in most middle and high schools across the country, a measure they said was temporary.
In his decree, Mr. Akhundzada focuses on marriages and widows, who must not be forcibly remarried, and are entitled to a share of their husbands' inheritance.
The Taliban have been accused by their enemies of forcibly marrying women, including widows, to their fighters, facts which could not be verified.
For months, arranged marriages of minors for money, seen as sales by some, have been increasing because of poverty.
Many desperate families, especially in the north and west, devastated by drought, are forced to marry their very young daughters in order to repay debts or to feed themselves.
The supreme leader of the Taliban also denounces the custom of giving a young woman in marriage to settle a conflict between families, and calls on the Ministry of Culture and Information to publish articles on women's rights "to prevent the regression in progress".
Mullah Akhundzada also asks the Ministry of Religious Affairs to encourage "scholars"to preach against the oppression of women.
Since the Taliban took power, the Afghan economy, which relied heavily on international subsidies, has collapsed.
Washington froze the assets of the Afghan central bank, and the World Bank and the International Monetary Fund suspended their aid.
The UN has warned that 23 million Afghans, out of a population of nearly 40 million, are at risk of famine this winter.