News
Afghanistan: Taliban launch "food for work" program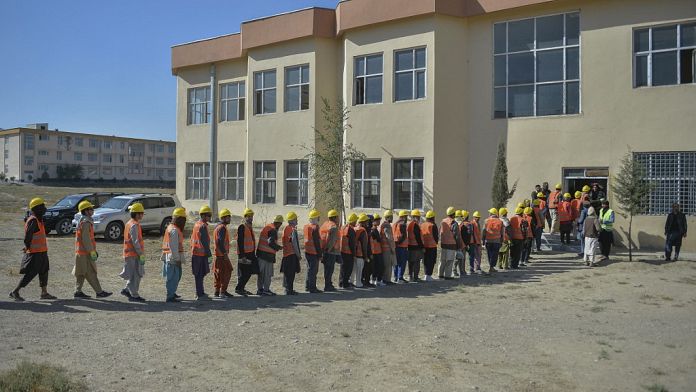 These Kabul workers" job is to dig water channels and snow catchment terraces in the hills to combat drought. In exchange, they will be paid in wheat.
The government of the Islamic Emirate of Afghanistan has launched the "food for work" program.
It is being implemented in the main cities of the country and will employ 40,000 men in the capital alone. 11,600 tonnes of wheat will be distributed in Kabul and about 55,000 tonnes in other parts of the country, including Herat, Jalalabad, Kandahar, Mazar-i-Sharif and Pol-i-Khomri.
"Poverty and hunger have many causes"Abdul Rahman Rashid, the minister of agriculture in the transitional Taliban government, said. "The first is the Covid that affects the whole world. The second is the drought in Afghanistan and the region. The third reason is the cessation of global aid to Afghanistan and the freezing of Afghanistan's capital and money in international banks".
Agriculture Minister Abdul Rahman Rashid and Kabul Mayor Hamdullah Nomani cut a pink ribbon and dug a small ditch at a ceremony in the capital's rural Rish Khor neighborhood to launch the program.
On the front line, in the north of the country, the Red Crescent is trying to help in the camps for displaced persons. But as she points out, despite all their goodwill, NGOs are unable to prevent a humanitarian crisis. It urges the international community to work with the Islamic Emirate of Afghanistan.
More than half of Afghanistan's population, or 22.8 million people, will be in acute food insecurity this winter, says the UN's World Food programme.
Source link