News
Above all, don't know: How Russia suppresses all information about its crimes in Ukraine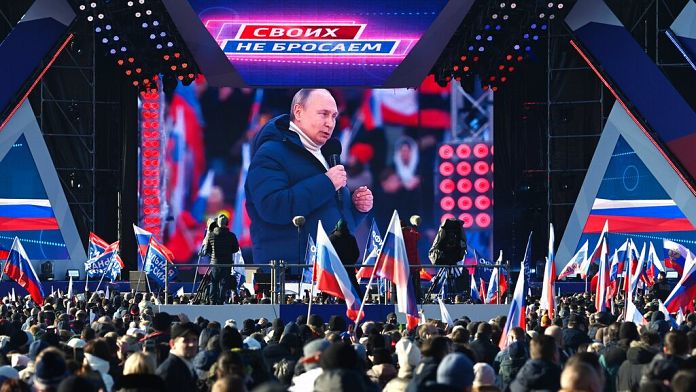 Since the beginning of the Russian invasion of Ukraine, Moscow has chosen to stifle all attempts, from inside or outside, to inform the Russian population about its war operations and the fate of the populations. attacked. On the contrary, Vladimir Putin and the whole state apparatus have embarked on a well-oiled, prepared, and unstoppable propaganda: the Russian army, within the framework of a "special operation", has embarked on the " denazification" of Ukraine. Any information, any communication contrary to this official line is henceforth repressed and its author liable to a prison sentence.
Some voices have managed to rise in an attempt to make the truth heard, such as that of public broadcaster Pervy Kanal [Première chaîne]who last week on the news burst onto the set with a sign saying "No to war, don't believe the propaganda, we are lying to you here"Arrested, she faces up to ten years in prison.
This Tuesday, another of these dissenting (and courageous) voices was raised: "I want Russia to hear me, people learn to distinguish propaganda (…), stop being zombified", said Zhanna Agalakova during a press conference organized by the defense organization of journalists RSF (Reporters Without Borders) in Paris.Handling", snippets of reality twisted to form "lies", a fallacious reference to the Nazis… This Russian journalist from a major television channel, who resigned because of the war in Ukrainegave to see from the inside the "propagandawho reigns in his country.
"I hesitated a lot"before speaking"but i don't think i have any other choice", she added, tears in her eyes.
Why now and not before the war in Ukraine? "I made compromises in my career"but there it was"a red line", she replied.
"In recent days, we have seen a stir inside these propaganda media", with "a certain number of resignations, difficult to quantify"said RSF Secretary General Christophe Deloire, alongside Ms Agalakova."Power tries to strangle the independent media"and the absence of"free press"leads to"suicide of a country", says Zhanna Agalakova.
To justify his action in Ukraine, "power played on an extremely sensitive chord for the Russians"claiming to fight against Nazi groups, underlined Ms. Agalakova. Because the country remains traumatized by the Second World War and its "27 million Soviet dead" : "When, in Russia, one hears the word Nazi, one has only one reaction: it must be destroyed. It's a manipulation, a huge lie".
The "Fake news", Russian version
Russia on Tuesday opened its first criminal case against a journalist for publishing "fake news" on the actions of the Russian army in Ukraine, under the terms of a recent law providing for up to 15 years in prison. The Investigative Committee, in charge of the main cases, announced that it had "opened acriminal investigation against journalist Alexander Nevzorov", accusing him of having "knowingly published false information about a deliberate shelling of a maternity hospital in Mariupol (south-eastern Ukraine) by the Russian army".
This bombardment verified many times and by many sourcesclaimed the lives of several people, including a pregnant woman and her baby. The event had been the subject of a veritable information war on Twitter, which had to remove messages posted, for example, by the Russian Embassy in London.
Nine years in prison for Navalny, star dissident and great communicator
It is also this Tuesday that Russian justice has sentenced to nine years in prison blogger Alexeï Navalny, charismatic rival of Vladimir Putin, author of documentaries on the corruption of Moscow's elites and tireless accuser of the opacity and lies of the elections in Russia. Navalny was not sentenced for fake news, but for "corruption."A joke, a pretext according to him.
Facebook and Instagram, soon Youtube
Social networks are not left out: a Russian court has banned this Monday the giants Facebook and Instagram for "extremism". "The court satisfied a lawsuit filed by the First Deputy Prosecutor General against the holding company Meta Platforms Inc. relating to the prohibition of its activities on Russian territory", said the court.
Facebook and Instagram, owned by Meta, are therefore "banned for extremist activity", added the court in a statement published on Telegram. This ban does not, however, target the messaging application WhatsApp, also owned by Meta, the court having found that it did not serve as a means of "public dissemination of information".
The two social networks had already been blocked for several days, as well as Twitter and the sites of most of the still independent Russian media. They are inaccessible unless you use a virtual private network (VPN).
The Russian security services (FSB) also demanded the ban on Monday "immediate" from Facebook and Instagram. "Meta's activities are directed against Russia and its armed forces. We ask for its prohibition and the obligation to apply this measure immediately", said during the hearing an FSB spokesman, Igor Kovalevski, quoted by the Interfax news agency.
Youtube is now in Moscow's crosshairs.
News channels, also victims of the witch hunt
Our own channel, euro news, was cut off on Tuesday by the Russian authorities, and access to its closed website. Like other international media, such as Bloomberg, CNN, RAI, ARD, ZDF, Deutsche Welle.
Independent Russian media, under pressure for many years, are today often referred to as "foreign agents", as well as many activists, artists or NGOs, such as the association for the defense of human rights Memorialwhose dissolution was confirmed this very Tuesday by the Supreme Court of Russia…