News
Aboriginal child drama in Canada: Justin Trudeau's late visit to Kamloops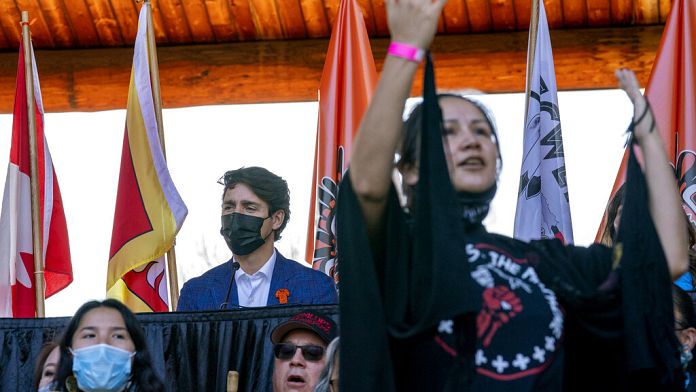 The excitement is still high in Kamloops, in western Canada, five months after 215 unmarked graves of Aboriginal children were found near a former Catholic church-run residential school.
A "bittersweet" visit
In these settlements, the children of natives were forcibly placed, cut off from their families, language and culture for the purpose of assimilation.
A treatment considered "unacceptable" by Justin Trudeau, the Canadian Prime Minister who visited Kamloops on Monday, for the first time since this macabre discovery :
"No child should ever have been taken from their home and forced into the residential school system. No child should have ever learned that their language, that their culture, that their identity has no value, it is unacceptable that this was done to your children."
Justin Trudeau's late visit has been described as "bittersweet" by the Indigenous community, which is struggling to digest the Canadian Prime Minister's absence during these long months and his vacation taken on the first National day of tribute to Indigenous victims.
The necessary identification of victims
Beyond the symbols, the community urges the government and the Catholic Church to work for the identification of the bodies of found children :
"It is very important to find their identity so that they can complete their journey. They have waited for a long time, and now that they have been discovered, they must first find who they are, who they were", points out Evelyn Camille, a survivor of Kamloops Residential School.
After the discovery last May, more than one of a thousand unmarked graves were found around other residential schools in Canada. The search must continue.
Between the end of the nineteenth century and the 1990s, a total of some 150,000 Indigenous children were placed in these residential schools. At least 3,200 of them died as a result of abuse and neglect.
Source link