Soccer
A masterful stroke from Laporta in approach
Still rang from his painful setback of this Tuesday, the Barca tries to get his head out of the water by focusing on his important files. Joan Laporta, who gathered his right arms after the defeat against Bayern, is on the verge of completing a crucial operation for the club.
Barça Mercato: The Blaugranas on the verge of extending their jewel
Not everything is rosy in Catalonia, after the 3-0 defeat of the Blaugranas against the Bayern Munich Tuesday, the future of the coach Ronald Koeman is more than ever in danger. After organizing a crisis meeting in the wake of the meeting, president Joan Laporta agreed a three-game deadline to seal the fate of the Dutch coach. A decision that echoes Barça's pathetic level of play for several games. After losing his Argentine star Leo Messi, the club is now thinking of shielding the contracts of its greatest promises of the future. If Barcelona has been working for a few weeks for expanding Ousmane Dembélé's contract, they should first formalize the extension of another great hope.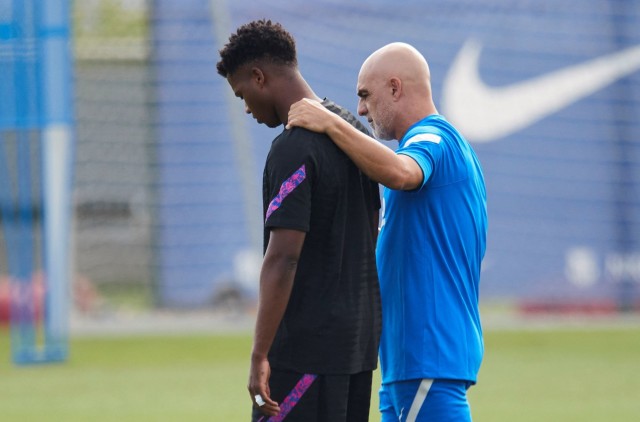 This Thursday, Jorge Mendes, the agent of Ansu Fati, met in Barcelona the leaders blaugranas, to begin negotiations in connection with the extension of the Spanish striker. Under contract until next June, the renewal of the contract of the player trained at La Masia is among Barça's priorities. Under Marca, the love carried by the Spanish club to its jewel is mutual, and both parties are optimistic to complete the operation as soon as possible.
As yet, no agreement has been agreed at the financial level, a point that could potentially be problematic in the future. Absent from the field since November 2020, Ansu Fati left a significant void in the Barcelona eleven, he who radiated then in club as well as selection. Barça is about to go double-dip to keep its nugget, which, at 18, is being courted by the biggest European teams. Blaugranas leaders do not want to relive the same mishap as with the dossier Ilaix Moriba, left a short time ago from his training club to join Leipzig.