Soccer
A coup de théâtre, Galtier instead of Puel?
Will Christophe Galtier abandon OGC Nice to come to the rescue of ASSE already threatened by relegation? In any case, the fans of Saint-Etienne dream of their former coach to come to take the place of a Claude Puel who seems overwhelmed by events.
ASSE Transfer Window: Fans dream of seeing Galtier again
Under contract until June 30, Claude Puel is announced on the departure due to the poor start of the season of theAS Saint-Étienne. Ligue 1 red lantern, the Ligier club is still looking for its first success in the league. But with the sale of the ASSE, the leaders do not want to let the situation get worse. Potential buyers being cooled by the spectre of relegation. According to several sources close to the Greens, Claude Puel could be thanked in the event of defeat in the derby against Olympique Lyonnais, Sunday evening, in Geoffroy-Guichard.
To take the place of the former coach of OGC Nice, many fans of AS Saint-Étienne would like to see Christophe Galtier on the bench he has already occupied for nine seasons, from 2008 to 2017. After a successful adventure in Lille with a title in Ligue 1 last season, the Marseillais is since this summer committed with OGC Nice until June 2024. But the Greens dream of seeing him back in the Forez. His entourage was quick to respond to this call from the ASSE.
The story is over between Galtier and l'ASSE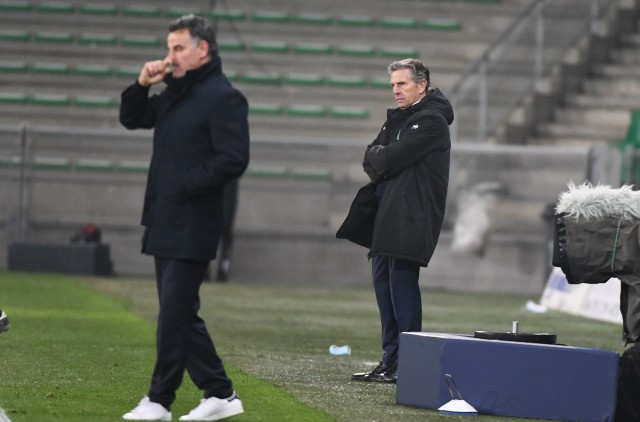 The supporters of AS Saint-Étienne will have to make a reason regarding Christopher Galtier. Indeed, in remarks granted to media TL7, Alain Blachon, former assistant of Galtier, made a shocking revelation on the future of the former coach of AS Saint-Étienne. For him, the possibility of seeing the 55-year-old Marseille return to the bench of the ASSE is simply utopia. "Christophe Galtier left on another project, it would be utopian to think that he will return", entrusted the current assistant of Romain Revelli to the SO Cholet.
Recently, two names came out in the media to take over from Claude Puel. In particular David Guion, former head of training of the ASSE, then deputy of Laurent Roussey, according to the information of Football Club. In addition to the former coach of the Stade de Reims, Laurent Huard, current head of the Green training centre, is also tipped for the position, according to the same source. Corn RMC Sport assures that nothing is yet stopped for Puel whose redundancy payments could constitute a blockage for the ASSE since he collects € 225,000 monthly.
The legendary clashes of French football