News
A bombed children's hospital, intense day on the diplomatic level. Follow our live.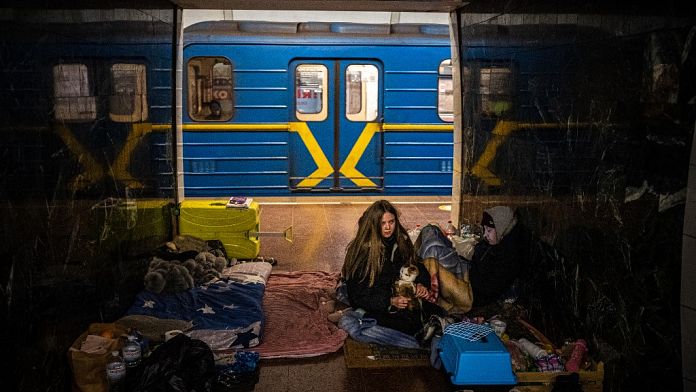 Update on the situation in Ukraine at 9 a.m.
3 dead including 1 girl in the bombing of a children's hospital
A facility housing a pediatric hospital and a maternity hospital in Mariupol, a besieged port in southeastern Ukraine, was destroyed on Wednesday by Russian shelling. Three people, including a child, were killed. A little earlier, a report of 17 wounded among the hospital staff had been communicated by the local authorities.
Ukrainian President Volodymyr Zelensky condemned "a war crime" in a video message, calling on Western leaders to show "courage" to "Finally do what they should have done on the first day of the invasion. Either close the air skies to Russian missiles and bombs, or give us fighter jets so we can do it all ourselves."
The White House for its part denounced a "barbaric" use of force against civilians, and British Prime Minister Boris Johnson called the bombing "immoral".
Russian Foreign Minister Sergey Lavrov and his Ukrainian counterpart Dmytro Kuleba arrived in Turkey for the first meeting on Thursday at this level since Russia invaded Ukraine on February 24.
"I don't have high hopes but we will do everything to get the most out of it"said Dmytro Kuleba, affirming that "everything will depend on the instructions that Lavrov will have received before these discussions".
Informal summit of the 27 in Versailles
The heads of state and government of the EU will try Thursday and Friday in Versailles to lay the foundations of a more sovereign Europe after the shock of the Russian invasion in Ukraine which exposed its weaknesses.
The war started by Vladimir Putin has highlighted the lack of European military capabilities, the 27 member states having greatly reduced their budgets since the end of the cold war.
35,000 civilians evacuated
President Zelensky said in a video address on Wednesday evening that three humanitarian corridors had operated during the day to leave the cities of Sumy, Enerhodar and settlements in the Kyiv region.
According to him, 35,000 civilians were able to be evacuated. He said he hoped the evacuations would continue on Thursday with three additional corridors to leave the towns of Mariupol and Volnovakha (southeast) and Izium.
Russian advance towards Kiev
In an update on the situation at midnight local (22H GMT Wednesday), the Ukrainian General Staff indicated that the Russian forces were continuing their "offensive operation" to encircle Kiev, while attacking on other fronts the cities of Izium, from Petrovske, Hrouchouvakha, Sumy, Okhtyrka, or in the regions of Donetsk and Zaparojie.
Columns of Russian tanks were only about fifteen kilometers away on Wednesday, near Brovary. 30 km from this locality, fighting also took place near Rusaniv, Ukrainian soldiers told AFP.
Sumy region military administration chief Dmytro Jivitsky said on Thursday that two women and a 13-year-old boy had just been killed in a nighttime shelling in Velyka Pysarivka. He also announced that three humanitarian corridors, with different starting points, should open on Thursday to evacuate residents of the region to the city of Poltava.