News
41st edition of the Princess of Asturias Award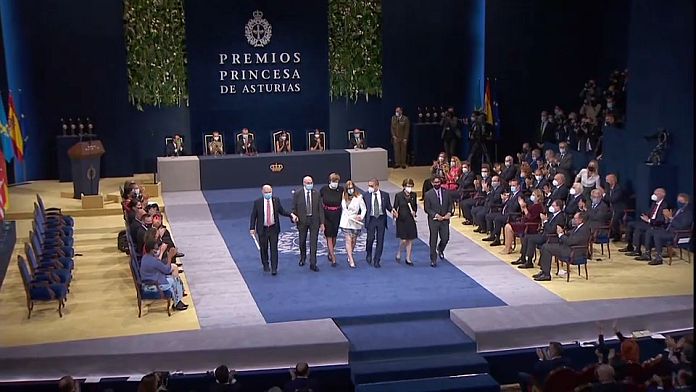 For its 41st edition, the Princess of Asturias award ceremony has returned to the Campoamor Theater in Oviedo, in northern Spain, after being held without an audience at the Hotel de la Reconquista last year.
President of the ceremony, along with Princess Leonor of Asturias and Infanta Sofia, King Felipe VI of Spain returned to the impact of the Covid-19 pandemic: "It has made us feel vulnerable and made us aware of the difficulty of ensuring the well-being of all, but also of the ease with which it can be lost. It served to reaffirm the need for collective work, and reminded us that it is only by working together for the common good of all that it is possible to face the most difficult situations and emerge victorious.".
The winners of this 41st edition are :
– The Spanish chef Jose Andres and the NGO World Central Kitchen, Princess of Asturias Award of the Concorde.
– Serbian artist Marina Abramovic, Princess of Asturias Award for Arts.
– The American journalist and writer Gloria Steinem, Princess of Asturias Award for Communication and Humanities.
-Indian economist and philosopher Amartya Sen, Princess of Asturias Award for Social Sciences (could not be present for health reasons).
– The Spanish swimmer Teresa Perales, Princess of Asturias Award for Sport.
– Emmanuel Carrère, French author, screenwriter and director, Princess of Asturias Prize for literature.
– Katalin Karikó, Drew Weissman, Philip Felgner, Ugur Sahin, Ozlem Tureci, Derrick Rossi and Sarah Gilbert, Prize for technical and scientific research of the Princess of Asturias.
– The Pan-African Movement CAMFED, Campaign for women's education, Princess of Asturias Award for international cooperation.
Considered the Nobel Prizes of the Spanish-speaking world, the Princess of Asturias Awards recognize individuals or institutions in various fields such as the arts, sciences and sport.
Source link